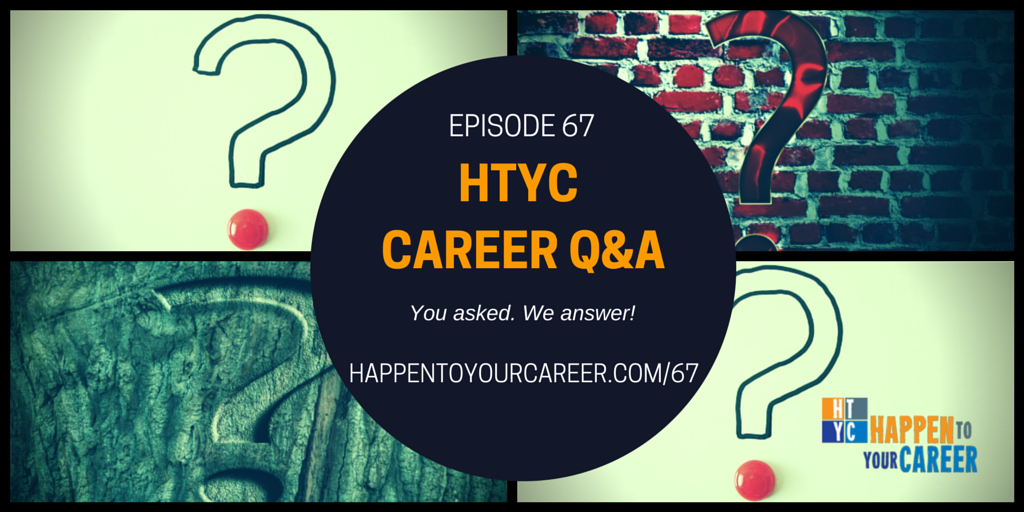 For tools and exercises to help you find the work you'll love, get our FREE 8-day 'Figure it Out' course!
About this episode
We're trying something new!  Today we answer some of the most common questions we get from HTYC'ers!
Stuck in a job with no idea of what else you would or could do?
Or maybe you have some idea, but aren't sure how to get started towards a new career?
Having trouble deciding between two different career paths?
Struggling with motivation?  Comparing yourself to others?
Feeling trapped because of debt?
Well, you're definitely NOT alone.
Because we get these questions so often, we wanted to make sure that our answers reached as many people as possible.
Note:  This episode is heavily action-oriented.  So, if you're ready to jump in and start moving today grab a pen!  Go through the Past Jobs Exercise with us to see how your past experiences can help guide you to your future!
"The funny thing is with careers, you don't even have to know what the exactly what the job title is, or the business title is or that thing you're going to sell is…you just have to know enough of what you want or what's important to you so that you can look for those opportunities and take advantage of those opportunities instead of pass them by when you see them throughout the rest of your life"  – Scott Barlow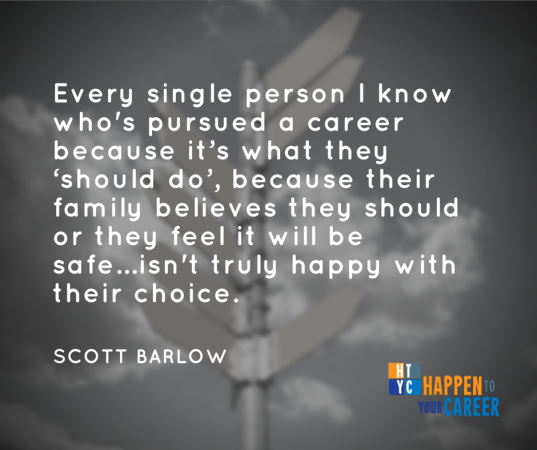 What You Will Learn
How figuring out what you value, what you enjoy, and what you can be truly great at is the path to finding work you'll love.  It's not about attaining the perfect job first, THEN being happy.
How getting clear on what you want then taking action will open up more options and more opportunities than you can imagine!
How your past job experiences leave clues that can help you find your dream career!  Pay attention!
Why, when you take control of your career and make decisions that are right for you, anything is possible.  Job titles and particular fields don't necessarily dictate your salary or number of opportunities for employment.
The powerful hold that debt can have on you and why you should avoid it at all costs.
How looking at other people's careers shouldn't stop you or discourage you!  Quite the contrary!  Everyone started somewhere.  It took Anthony Bourdain almost 20 years between the time he graduated from cooking school and when he finally found notoriety.
The importance of getting out of your comfort zone!  Trying new things is where the growth happens!
Relevant Links and Resources
Get our FREE 'Figure it Out' 8-day email course! – packed with tools and exercises to help guide you to work that fits YOUR unique strengths and skills!
For more information on career exploration and getting into motion:
For more information on finances and debt:
Get in touch with Scott!
Email Scott directly at Scott@happentoyourcareer.com
Your turn!
What are you struggling with right now?  Leave us a comment or send an email!  Let us know how we can help!
Love the show? 
Subscribe to the Happen to Your Career podcast:
We would LOVE it if you would leave us a review!  Each review helps us to reach more folks like you and help them "Happen" to their careers!
Want help finding the work that fits YOU?

 Click to enroll in our FREE 8-day course!