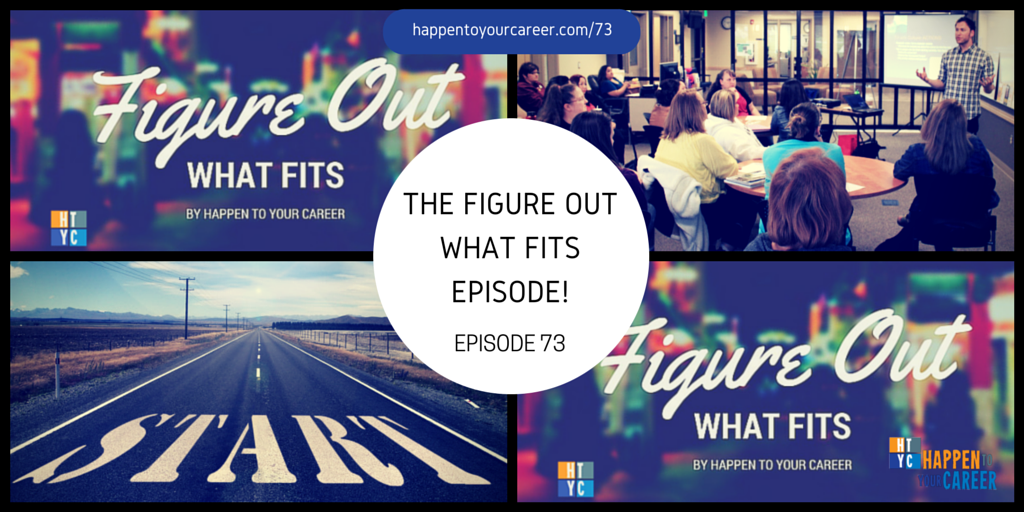 Enroll in our FREE 8-day 'Figure it Out' course to find the work that fits YOU!
About this episode
If you have a good (or maybe great) job but you can't see doing the same thing forever…
If you hate your job and cant wait to get out of it…
If you're not sure what you want to do for your career or job or business…
If you are just not sure where to begin…
If you want the most effective approach to making a career change…
If you have trouble narrowing down what you want – you have too many passions or interests…
Then this is the show for YOU.
We're going to walk through the process of determining exactly what is holding you back from finding the work that you were made to do!  Then, we'll talk about what to do about it!  As it turns out, there are a lot of misconceptions about careers out there and we want to help you avoid those so you can stand out from the pack!
It is critical to spend the time doing the work up front that will lead you to crystal clarity on what you truly want.  As Scott says,
You will get what you want to the extent that you are clear on what you want.
This is why most people who say, "I just want a stable job with a company I can grow with" will get just that.
In building your career profile, you'll want to focus on your strengths first.  These will be the "corner pieces" of your puzzle.  Next you'll fill in the "edge pieces".  Those are your criteria for what you want in your life, what you need to have in your work and in your life – your salary considerations, your health and wellbeing considerations, etc…  Your "puzzle" picture will start to take shape!
DON'T get hung up on job titles!  Just zero in on what you want, then talk to others about it.  The opportunities will begin to emerge!
Once you make a decision, the universe conspires to make it happen. – Ralph Waldo Emerson

What You Will Learn
What the biggest thing is that's stopping you from finding work that fits you and what to do about it!  You'll find out all about how to recognize and defeat mental barriers and fears like:

The "Don't Knows"
The Perfect Decision
The Exposure Problem

How careers REALLY work and what you need to know that just about everyone else is missing!
The importance of gaining clarity in what you really want.  (Because most of the time, what you want is what you will get!)
Relevant Links and Resources
HTYC "Figure Out What Fits" 8-day FREE email course
For more info on the value of knowing and being yourself:
HTYC 059 The Power of Being Yourself with Jenny Foss
For more information on understanding what matters to you and discovering the work that fits:
For more information on discovering your Signature Strengths:
Maggie's Story:  How to Leverage Your Existing Skills and Land Your Dream Job!
Kevin's Story:  How to Get Multiple Job Offers in 30 Days
Get in touch with us!
Email:  scott@happentoyourcareer.com
Love the show? 
Subscribe to the Happen to Your Career podcast:
We would LOVE it if you would leave us a review!  Each review allows us to reach more folks just like you and help them "Happen" to their careers!
Want help finding the work that fits YOU?

 Click to enroll in our FREE 8-day course!