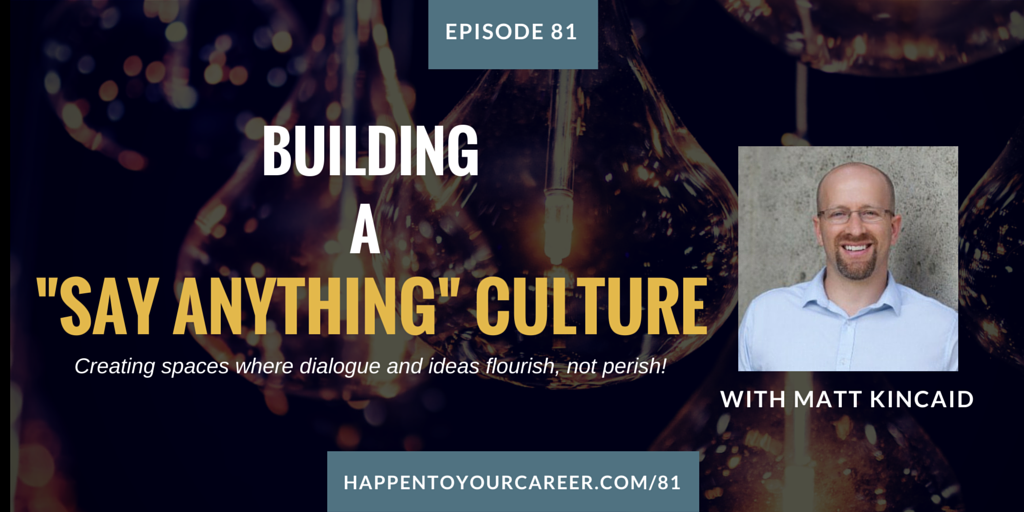 Enroll in our FREE 8-day 'Figure it Out' course to find the work that fits YOU!
About Matt Kincaid:
Why don't we speak up more often at work? Or in our day-to-day lives when we have something to say? What holds us back? What can we do about it? Whose responsibility is it to make sure we feel safe sharing our ideas?
Matt Kincaid is the co-author of the new book, Say Anything: How Leaders Inspire Ideas, Cultivate Candor, and Forge Fearless Cultures. He shows us exactly how to identify what is holding us back, how to move past it, and more importantly how we can create environments where ideas and opinions are respected and innovation thrives!
Matt had a friend of his come and talk to him about something that happened SEVERAL years prior that wasn't sitting well.  The friend had cut corners on a house painting job he had done for an elderly customer while working for Matt.
Matt couldn't shake this conversation.  It led him down a path exploring questions around why, as a leader, people don't tell you things.
His book with co-author Doug Crandall, Say Anything, shows us ways to break down the communication barriers that happen due to the dynamics of hierarchies of all kinds, in the employment space and outside of it.
As employees, we need to get to the root of what's shaped our worldview and beliefs.
As employers, we need to take responsibility for creating a friendly, positive work environment where everyone feels free to speak their ideas and opinions.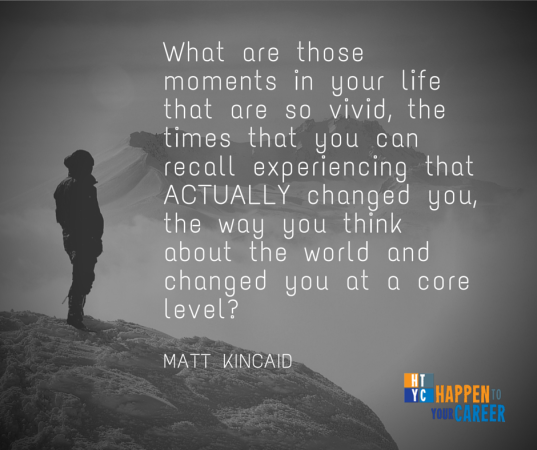 What You Will Learn:
The three things that stop most people from speaking up at work and at home.
How leaders can create a safe space where everyone feels comfortable voicing their thoughts and opinions.
The importance of vulnerability in building trust and the relationship between trust and credibility.
Relevant Links and Resources:
Get enrolled in our FREE 8-day "Figure it Out" email course here!
Enter to win full-service on-the-air coaching from Scott and the team here!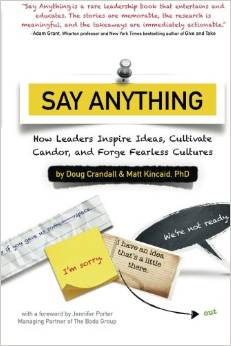 Say Anything: How Leaders Inspire Ideas, Cultivate Candor, and Forge Fearless Cultures
For more information on gaining clarity and breaking through the barriers holding you back:
Also mentioned in the episode:
Amy Cuddy's TED talk, Your Body Language Shapes Who You Are
Get in touch with Matt!
You can find Matt at Blue-rudder.com!
Get in touch with us!
Email:  Scott@happentoyourcareer.com
Twitter: @htycbiz and @scottabarlow 
Love the show? 
Subscribe to the Happen to Your Career podcast:
We would LOVE it if you would consider leaving us a review!  Each review allows us to reach more folks just like you and help them "Happen" to their careers!
Come join us over on Facebook in our Work You Love OneStop group!  
Get the support, information, and encouragement you need to move to work you'll love!
Want help finding the work that fits YOU?

 Click to enroll in our FREE 8-day course!