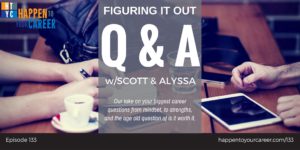 We've taken the top questions that have been asked by you, our audience, and are sharing our thoughts through our own experiences of career changes.
We answer your questions from questions of career change mindset, to changes of strengths and interests, and whether searching for the dream career is even worth it.
What You Will Learn
When making a career change, do you have to know what you want to do for the rest of your life?

Society and culture may influence our thoughts on stability and what plan or pathway you think you need to follow in your career and in life in general
Change in life and lifestyle will change the way you want to earn money
There are more and more ways to figure our the information you need to decide if your choices bring you closer to or further away from where you want to be
Bottom line: Mindset will change, expect it to change

Do strengths change over time? Does everyone have a strength? What if you don't have strengths?

Strengths and interests change as life and work experiences change
 When it comes to signature strengths, everyone has them, they are already there, already ingrained in you. It is just a matter of doing the work to understand those signature strengths in order to intentionally focus on developing them and making them great.
 Once you figure out what you're naturally good at, the things that you're more gifted at doing, you can then work to align those strengths for a career that will never feel like work.

 

Is it worth it- finding the dream career versus settling for a job that pays the bills?

It takes some amount of searching to determine if anything is worth  doing what you love
Everyone will have an answer for themselves once they take the time to evaluate their priorities
From career changes to paying off debt, whatever it is, even if it doesn't seem ideal at the moment, you are never going to get what you want or what you're looking for if you don't make the moves to make it happen
Your goals are closer than you realize. It may look like a daunting task, but it is never as difficult as you think it is.
You have to make the decision if you want to move forward. When you do, the answer will be yes. Yes it is absolutely worth it.
For more info on finding the work that fits you:
Have a question you need answered? We're here to help!
Get in touch with us!
Email:  Scott@happentoyourcareer.com
Twitter: @htycbiz and @scottabarlow 
Come join us over on Facebook in our Work You Love OneStop group!
Love the show? 
Subscribe to the Happen to Your Career podcast:
Leave us a review and help us to reach more folks just like you and help them "Happen" to their careers!
Want help finding the work that fits YOU?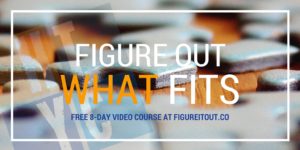 For helping finding YOUR signature strengths, enroll in our FREE 8-day video course at figureitout.co!