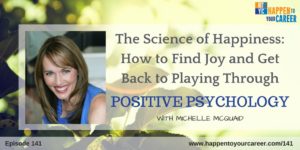 Are you finding yourself unsatisfied by the life path that you are on?
Do you ever feel like once you achieve a goal or you get where you want to be in your career or in a particular place in your life that all you want is more?
Some of us work a job day in and day out, content with the life that we have created for ourselves. Sometimes that contentment becomes realized as complacency as we long for more from our careers or life in general.
As we reach a level of technical success in our career, we stop learning new things and our lives become less engaging. Getting curious and staying interested in what matters to us is imperative in our lives. Keeping that sense of wonder keeps life playful and fun.
Today's guest, Michelle McQuaid, is here to teach us about her findings in the science of happiness, also referred to as positive psychology.
Her studies encourage us to look beyond our achievement-obsessed and outcome-focused society as that culture causes us to lose sight of the things that bring us joy in the every day.
About Michelle McQuaid
Michelle McQuaid found success up the corporate ladder in public relations early on in her career. After years of hard work, Michelle had reached her career goals and had an incredibly successful professional and personal life with a growing family. Yet, with all of her external success, Michelle felt as though she was still missing something, like everything that she had achieved still wasn't enough.
Enter the concept of positive psychology and Michelle's life path was forever changed. She is now a best-selling author, workplace well being coach and playful change activator. She's passionate about translating research from positive psychology and neuroscience, into practical strategies for health, happiness, and business success.
Michelle advocates to help people discover their strengths, move beyond their fears, and discover what it takes to flourish with confidence and discover the science of happiness.
Listen to our chat with Michelle as she shares her experience of reaching what she thought her career and life goals were, but then found herself wanting more from the life she created for her and her family.
What You Will Learn
How to use the knowledge of what makes us happy to redefine our purpose
How to figure out what is best for you because knowing what is going to be good for you right now is the best thing you can do to flourish in your career and life
Your potential and your capabilities are key in aligning yourself with purposeful work
How to be okay with the lows in life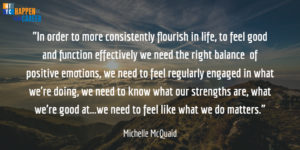 Relevant Links and Resources
Follow Michelle on Twitter: @chellemcquaid.
Learn more about the science of happiness on Michelle's website.
Like Michelle on Facebook.
Check out The VIA Survey, the only free, scientific survey to find your character strengths!
Take the PERMAH Workplace Survey recommended by Michelle to check your well being.
Get in touch with us!
Email:  Scott@happentoyourcareer.com
Twitter: @htycbiz and @scottabarlow 
Come join us over on Facebook in our Work You Love OneStop group!
Love the show? 
Subscribe to the Happen to Your Career podcast:
Leave us a review and help us to reach more folks just like you and help them "Happen" to their careers!
 Want help finding the work that fits YOU?
Are you ready to discover your strengths, move beyond your fears, and discover what it takes to flourish with confidence? Knowing your potential and your capabilities is key in aligning yourself with purposeful work and we can help, sign up for our free 8-day course to "Figure Out What Fits."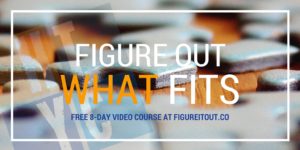 For helping finding YOUR signature strengths, enroll in our FREE 8-day video course at figureitout.co!