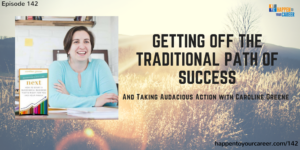 Have you ever found yourself feeling guilty or unappreciative for wanting something other than the career and life that you've already worked so hard to create?
Does the doubt that lingers in your mind that maybe you're not on the right career path even though you've achieved great success in your professional life make you feel crazy or ungrateful?
Stop.
Stop right there and get it out of your mind that there is something wrong with wanting something more. There is nothing wrong with having a desire to achieve something greater than what you've accomplished so far in your career.
Many of us are seekers and as seekers we may feel a deep sense that what we're doing with our lives isn't right for us. As seekers we may feel like we're made for something different, something more. We may experience the unnerving feeling like we may be the crazy ones because as we look around, we ask how other people are living their lives just fine in their chosen careers.
If you've found yourself in this place of wonder, asking how you're supposed to get started on getting out of your current career to find a new path or how you're supposed to even get started on changing your career path when you don't even know where you see your future self, then our chat with life and business coach, Caroline Greene, may be the episode for you.
About Caroline Greene
Caroline Greene achieved success in a very traditional way as a graduate of Yale and the UVA School of Law and continuing on to find more success as a defense attorney. Fast forward to now, and Caroline will tell you that she is a recovering lawyer finding joy as life and business coach for determined women that want to build a life or start a business that isn't just done right in the traditional sense, but is done right on their terms. She takes pride in her work helping her clients get where their hearts are leading them to go.
Listen to our chat with Caroline as she shares her career and life experiences and how she finally made the jump to find out what she really wanted to achieve with her career and life.
What You Will Learn
How being honest with yourself about the things that you like and the things that you don't like will get you started to finding what type of career path you see your future self on
The steps to start gaining that momentum start small..something as little of getting out there and talking to people could be a turning point in your process in figuring it all out
It's important to always remember that you have the control. Even when you're coming out of the phase of what seems like a crisis, YOU'RE IN CONTROL of what happens next
The two steps you need to follow in finding your new career path are:

 Owning your "craziness"

Being able to accept your in-between place in life and know that it is okay to be there
Trusting yourself to find out where you want to be not in the next five years, but in the next week

Doing something about it

Taking that audacious action to get where you're meant to be going
Start by taking small steps to spend time talking to people that have been in the same place as you to learn from their experiences and gain momentum to move forward in a meaningful way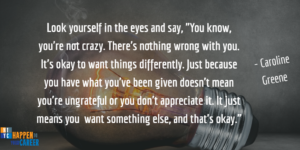 Relevant Links and Resources
Want a FREE Paperback copy of Caroline's book, "MATTER: How to Find Meaningful Work That's Right For You And Your Family"? Send her an email at caroline@carolinegreenecoaching.com with "MATTER" in the subject line!
Follow Caroline on Twitter: @DeterminedMoms.
Learn more on Caroline's website.
Like Caroline on Facebook.
Find Caroline's books on amazon here: "NEXT: How to Start a Successful Business That is Right For You and Your Family" and "MATTER: How to Find Meaningful Work That's Right For You And Your Family"
Get in touch with us!
Email:  Scott@happentoyourcareer.com
Twitter: @htycbiz and @scottabarlow 
Come join us over on Facebook in our Work You Love OneStop group!
Love the show? 
Subscribe to the Happen to Your Career podcast:
Leave us a review and help us to reach more folks just like you and help them "Happen" to their careers!
 Want help finding the work that fits YOU?
Ready to take control and get on your path to (non)traditional success? Take those small steps and check out our free 8-day course to "Figure Out What Fits."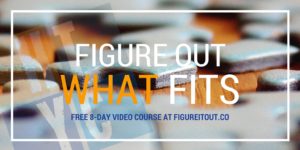 For helping finding YOUR signature strengths, enroll in our FREE 8-day video course at figureitout.co!