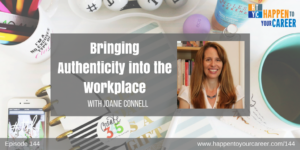 What do you like doing?
Does it make an appearance at your day job?
Bringing more of yourself and being authentic to who you are at your core into your workplace should be mandatory.
Being authentic in your life and career is more beneficial to your success in your career than being a certain persona that your career molds you to be.
Maybe you've come to realize that the career path that you're on isn't exactly as you've always thought it would be. Maybe you're already playing with the idea of a career change and don't know where to start. Or maybe you feel like you've invested so much of your life at your job and don't want to start from scratch.
Does any of that sound familiar?
If it is the fear of starting fresh in a whole different career or new industry that is stopping you from finding a new path where you can be authentic in your work, don't worry about that. All is not lost as you change careers, every experience counts and the skills you gain throughout your career journey will be carried with you, adding more value to your skill set. Changing careers to align your work with who you are is not only liberating, but it will also give you better chances for long-term career success and fulfillment.
Our guest, Joanie Connell, knows exactly how it feels to be doing work that she was slowly losing interest in as her passions began to come into light.
For her, the importance of being authentic in her work led her to leave her engineering career and go back to school to dig deeper into her passion for people. She was also able to carry her experiences in the technology and engineering field into her new business venture as a consultant.
About Joanie Connell
Dr. Joanie B. Connell is a Harvard-educated engineer and holds a Ph.D. from the University of California, Berkeley. She is currently working as a leadership coach and organizational consultant. She consults with organizations in a variety of areas, including executive leadership development, diversity, generations, flexible work arrangements, work-life balance, life transitions, character and ethics, team building, and virtual teams.  Her clients are from Fortune 100 companies, not-for-profit, and government agencies and high tech, biotech, healthcare, finance, legal and other industries.
Joanie has focused her career on helping people improve their success and happiness in their careers. She specializes in maximizing leadership potential and is the author of the book, "Flying without a Helicopter: How to Prepare Young People for Work and Life."
Listen to our chat with Joanie as she shares her story of how leaving her engineering career to live a more authentic life to pursue a career that fueled her passion for helping people while utilizing her strengths in leadership.
What You Will Learn
Pay attention to that "A-ha" moment of finding what you really enjoy doing
Being authentic in your career is key – being able to align your work with who you are as a person is liberating
Having resilience to stay strong through your failures as they happen can lead to something better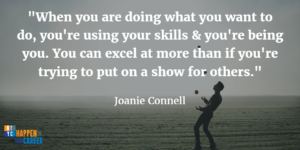 Relevant Links and Resources
Follow Joanie on Twitter: @ConnellLessons.
Learn more on Joanie's website.
Like Joanie on Facebook.
Check out Joanie's book, Flying Without a Helicopter: How to Prepare Young People for Work and Life
Get in touch with us!
Email:  Scott@happentoyourcareer.com
Twitter: @htycbiz and @scottabarlow 
Come join us over on Facebook in our Work You Love OneStop group!
Love the show? 
Subscribe to the Happen to Your Career podcast:
Leave us a review and help us to reach more folks just like you and help them "Happen" to their careers!
 Want help finding the work that fits YOU?
Are you ready to be authentic in your career? If you're ready to align your career with who you really are, check out our FREE 8-day course to "Figure Out What you Really Want for Your Career!"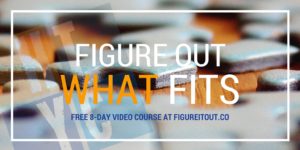 For helping finding YOUR signature strengths, enroll in our FREE 8-day video course at figureitout.co!