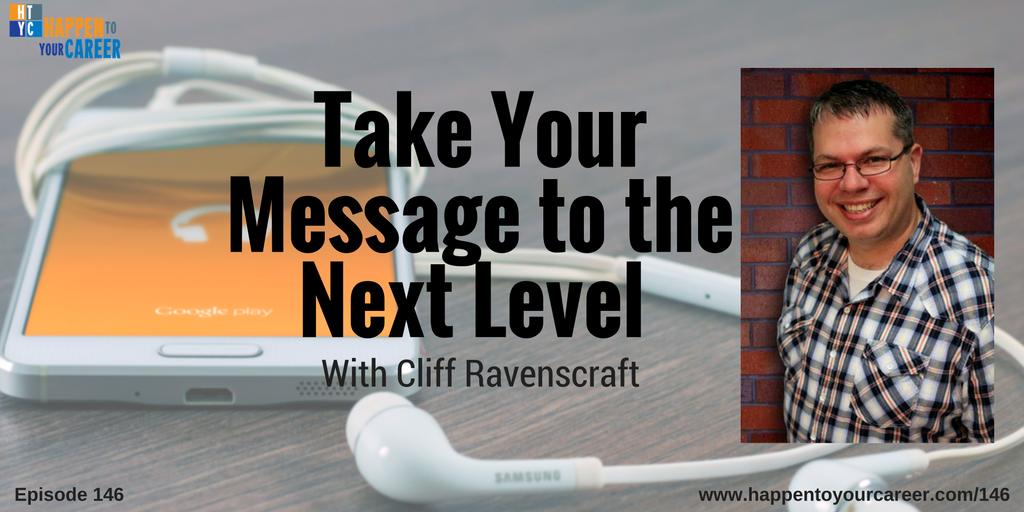 Have you ever wondered how to start a podcast or if you could do it on your own?
The answer is: Yes. Absolutely.
Whether you want to start your own podcast as a hobby or if you want to make the switch to start your own business, it is possible to get your own podcast going even if you have no experience.
So, if you're looking for some guidance to start your own podcast, you're in luck! We've got the Podcast Answer Man himself, Cliff Ravenscraft, as our guest.
Listen in as Cliff not only shares his experience on how he got to where he is now in the podcasting world, but he also shares some tips on how to start your own podcast (with very minimal equipment required)!
Cliff Ravenscraft has built his podcasting business from the ground up and is proof that making a big career change is possible. He is "a firm believer that if you Pursue Your Passion, The Money Will Follow!"
He's on top of the podcast game and has shared a step-by-step process to create a podcast for those of you looking to start your own podcast. Check it out below!
First thing's first – GET STARTED! How to Start a Podcast:
STEP 1- Head to your nearest electronics store or hit amazon.com for a microphone
(Recommendation: Check out the audio-technica ATR2100)
STEP 2-Download the software,  Audacity® – Audacity® is free, open source, cross-platform audio software for multi-track recording and editing
STEP 3- Plug in your new microphone & hit the record button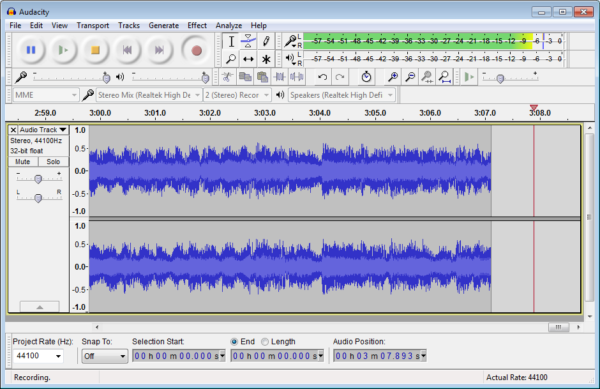 STEP 4- Start talking. Share your heart and your message to the world.
STEP 5- Save your audio file as an mp3 file when you're done recording
– If you're using Audacity, you're going to need to download the LAME encoder (you can find more information about the download here)
Once you download the LAME encoder, update your preferences in Audacity to create mp3 files by opening Audacity's preferences
Click on the "Locate" button
Click on the "Browse" button, and locate your LAME encoder library
(Some people may choose to record their podcast through Apple's Garage Band application, but end up saving their file as an m4 or A-file, but the universal platform for these files is an mp3 file)
STEP 6- Setup a RSS feed – hardest step of the process!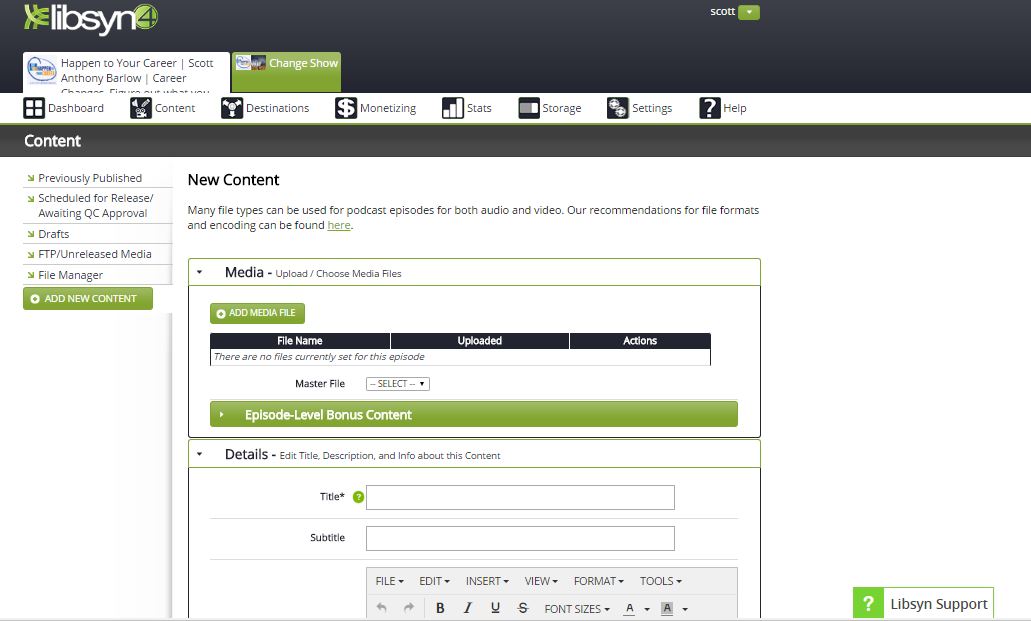 Take that file and paste it into WordPress (or whichever RSS feed platform works for you) for publication by creating a new post and filling in the title of your podcast episode, episode description, and check the box "Post Libsyn Episode" to publish through Libsyn
Upload your episode to the post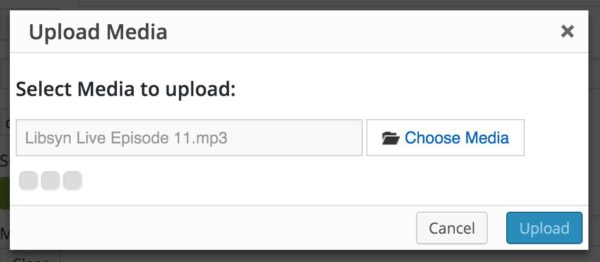 Fill in the necessary information just as you did on Libsyn and publish your episode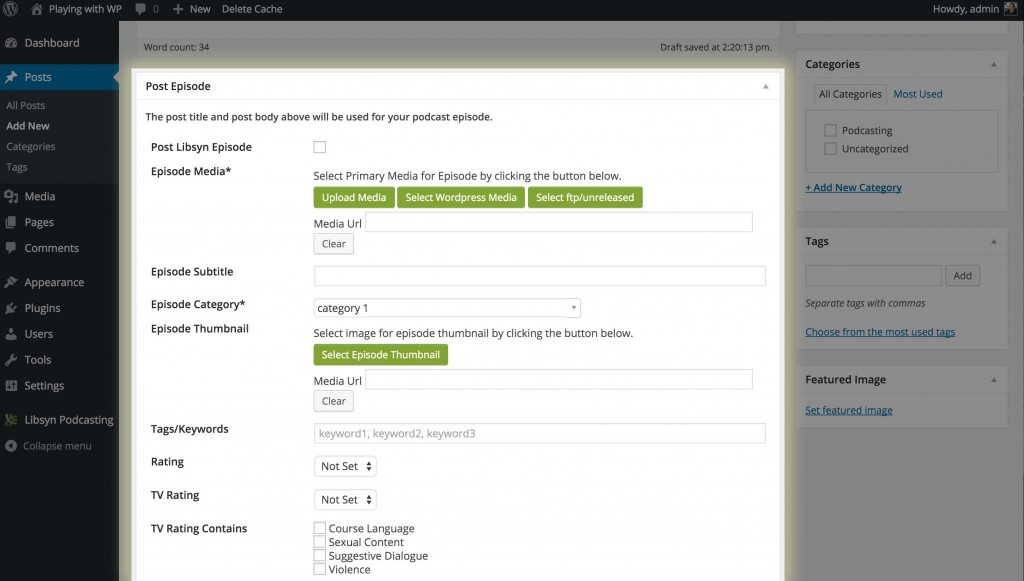 STEP 7- Take that RSS feed from your WordPress (or whichever RSS feed platform you chose) to iTunes Connect and sign in with your Apple ID
STEP 8- Enter your RSS feed URL and click "Validate"

STEP 9- Review your work, fix any errors , and click "Validate" again
STEP 10- Last preview and click "Submit Podcast" (It may take 2 days to get approved after you submit your podcast for review)
BOOM! Congratulations! You now have a LIVE podcast in iTunes!
Simple, but not easy.
The real difficult part is actually coming up with what to say because you have to think about:
How do you want to say it?
How to communicate it?
How do you get better at communicating it?
How to do you say it without saying "um" a million times?
But even if you do say "um" a million times, starting your podcast now will allow you to practice and allow you to get better (without saying "um" so many times!).
Share and give your message away to people.
So, ask yourself, are you discontent with your day job and have been dreaming of starting your own podcast? Maybe you're inspired by it to make a change?
Bottom line: If you're looking to start a podcast for a profit (or hobby), start any new business venture, or if you're ready for a career change, GET STARTED NOW.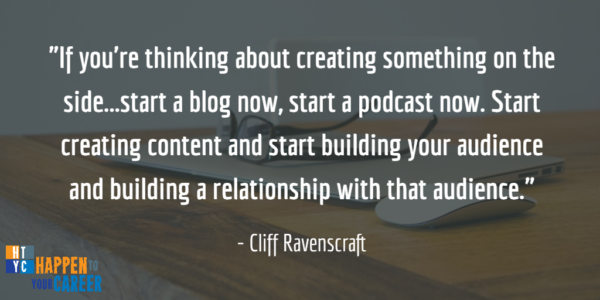 About Cliff Ravenscraft
Cliff Ravenscraft has successfully made the jump from an insurance agent with a hobby producing a podcast about his favorite TV show to a full-time podcast producer and a Podcasting and New Media consultant/coach. He has produced more than 2,800 individual episodes of more than 20 different shows.
Cliff continues to help people take their message and their life to the next level by creating content that is entertaining, educational, encouraging, & inspirational and bringing them closer to who they are meant to be.
Relevant Links and Resources
HTYC RESOURCES
HTYC How-To Guide: How-to Create a WordPress Website for an Online Business or Blog
HTYC Episode 100: The 100th Episode! 
Tune into Cliff's podcast, Podcast Answer Man
Follow Cliff on Twitter: @cliffeotc.
Check out Cliff on youtube.
Follow Cliff on Facebook.
Get in touch with us!
Email:  Scott@happentoyourcareer.com
Twitter: @htycbiz and @scottabarlow 
Come join us over on Facebook in our Work You Love OneStop group!
Love the show? 
Subscribe to the Happen to Your Career podcast:
Leave us a review and help us to reach more folks just like you and help them "Happen" to their careers!
 Want help finding the work that fits YOU?
Let's get you started on your way to becoming great! Take those small first steps and check out our free 8-day course to "Figure Out What Fits."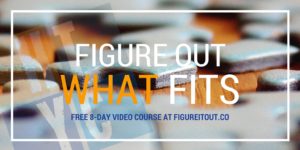 For helping finding YOUR signature strengths, enroll in our FREE 8-day video course at figureitout.co!