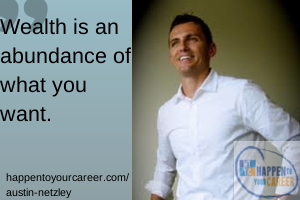 Austin Netzley is a retired engineer, entrepreneur, investor, blogger and podcaster.  Austin retired decades earlier than the majority of people retire…but he's not just lounging around the pool and playing golf.  Scott talks with Austin about how he was able to achieve such success at such an early age.
[Tweet ""Wealth is an abundance of what you want" @YoProWealth"]
How Did Austin Netzley Start on the Path to Ultra Success
Asked who he was jealous of?
Who did he want to be?
What type of lifestyle did he want?
Associate yourself with successful people.
Resources Austin Netzley Mentions
Connect with Austin Netzley
Email: austin[at]yoprowealth.com
Question: How do you define wealth?
Please share this episode with your social circles and leave us a review on iTunes!!