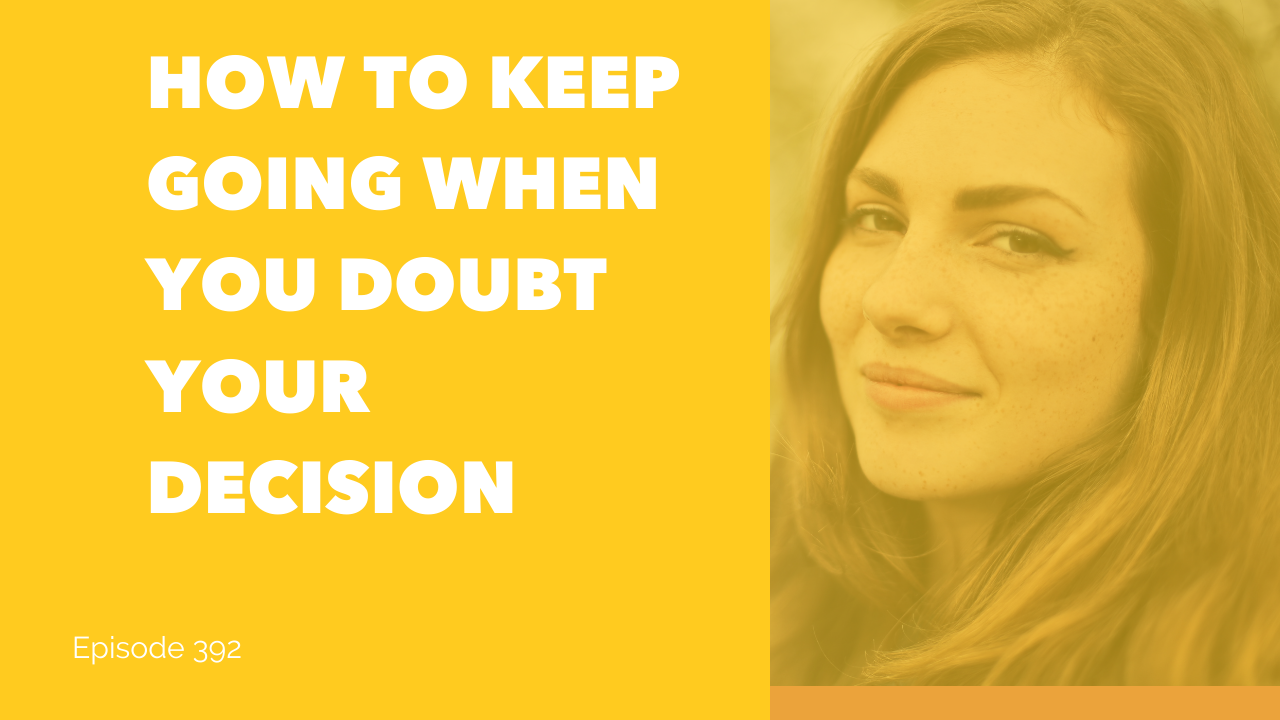 In this Episode:
How to keep going when you doubt your decision
How to move beyond the low points
What is the structure you need to make a career change
How to keep going when you want to quit
The Email that changed everything
Doubts are normal when you're making a big decision – it's just a matter of how you handle those doubts.
On January 2nd 2020, Vicky Meng sent an email that changed her life.
On the podcast today, Vicky does a great job of articulating these high and low points throughout her transition. You'll understand what it's really like to make this type of career change. It's so much harder than everyone thinks it will be, but I've yet to meet anyone who believes it wasn't absolutely worth it.
Full Transcript
Vicky Meng
Well, my career journey so far has not been very long. Um, this new job with this new organization is literally my second organization on in my whole career journey. I have been with my previous employer for five years. And I started with them right out of college. And I would say that about two years ago, and around 2018, that I begin to look for a career change.
Scott Anthony Barlow
A little bit about what you were what you were doing, what type of work were you doing? A couple of years back? And what? What really led up to thinking about that career change?
Vicky Meng
Yeah, um, so I guess I should say that I started in corporate accounting, because my education background is in accounting, and I actually went straight up accounting for bachelor's, or master's, and I got my CPA. So I was supposedly, I should have, you know, followed my peers path and going through either public county law, public accounting route, or I would just stay within the corporate accounting route. But to be honest with you accounting, even though I did so much education, in that field, has never really felt like the field. For me, it was more of a family culture background influence. But what was sad about it was that I knew accounting wasn't for me at the same time, I had no other passion, or no other areas where I would be, I consider myself a boring person. Because you know how a lot of other people probably say, Oh, you know, I love that team, or I love painting, or I love photography. I just never had one of those passions. So as I just followed, what my family's advise was, and what seemed to be the most realistically best choice. And that's what I did. And it did help me to get up with my own feet. In the beginning, right after college, you know, all companies need accountants and I could, you know, find a job doesn't and I was able to find a good company that sponsor me through the immigration process in which is a place of monumental part of my life right now. And that is why I can still go on to pursue my further dreams in this career. But yeah, I just didn't know what what else if it's not accounting, then what could it be? I did transition into the finance department with my previous employer working in the Treasury Department. I did not know what that was about at all. But what was good about it is that the organizations pretty small, so I was able to transition to different departments. And at the same time, I was able to dive deep in each of those areas, not only dive deep, but also gain a very clear, big picture of how each area plays into the whole corporate finance and accounting structure and how each department helps to make the final decision. So I did Treasury for about two years. And then I transitioned to financial analysis, which is another department under the corporate finance umbrella. And I did that for another two years. So that makes up five years in total, but I was literally doing everything that the company needed accounting and finance wise. And in the end, I just rose up to this, like strategic finance advisor for the executive team, because I've worked with different departments. And I know how to help different parts integrate with each other. So whether it's tax related, whether it's finance projections, whether it's accounting recordings, whether it's cash movements, I was able to come up with a good strategy that's customized to that organizations specifically.
So that's where I was most valued at, and I actually enjoyed being, you know, the strategic partner in that way.
Scott Anthony Barlow
Yeah. Right about that, I'm curious. Um,
Vicky Meng
I think I really liked the one on one interactions that I often had with each executive team member for the CFO will come to me for a specific project. And I felt like I was helping him directly. And I was overseeing this project, or starting a project on my own and overseeing it till the end and actually see the results happening. And I could see the impact that is making on the organization, I really liked that aspect, that's when I, one of the things that I realized after starting CCB is that I actually enjoy working in small team environments, I don't like to be one of the members of a large, you know, corporate accounting team and just handle maybe once facilities month and closing, we repeatedly every month, what I like about is, you know, a various role with various projects that could come up and need some cream, not I wouldn't say creative, I actually generally don't consider myself a creative person. But, um, but you just, it's not the same. And it's very fast paced, and you have to integrate different areas of knowledge, that's what I really liked about is not just solely about accounting is not just solely about finance, it's not just about tax, you have to integrate everything together, in order to find the best solution.
Scott Anthony Barlow
Well, it sounds like it in some ways, it is the creative application of those different experiences and knowledge sets. And then also, it sounds like you have to have that particular type of variety in there in order to make it rewarding for you. Is that fair to say?
Vicky Meng
Yeah, so one of the strengths that came out in my strengthsfinder assessment, besides this one on one helping part was that I am that the factor input. So I'm a person who really likes to do research, who really likes to know about different areas, I like to get that input. Even sometimes when I don't see where this input could actually help me in this project. Maybe maybe you won't ever help me, but I still like to collect that information. I still like to understand it. And I feel like someday I'm sure it'll come to you.
Scott Anthony Barlow
Well, so I think what's really interesting about that, to me, is, you know, I know the end of the story here too. And I know that eventually you decided to transition. And I also know that later on much later, when you were in the midst of your transition, that inclination, and that that inclination to research really helped you be able to make that transition. So we'll come back and we'll talk about that a little bit later. And I'll certainly ask you about that. However, You know, what, what were some of the final events that made you say, you know what I, I have to transition, I have to transition away from this company away from the roles that I'm currently in. What, what caused you to make that decision?
Vicky Meng
I think the main factor there was that I just couldn't see myself grow anymore. In my own organization. As I mentioned that I've already worked in various departments, I'm already directly helping the executive team. I've definitely make contributions. And I could see those contributions or new contribution areas where I could help with but when they're coming I, it's not for sure. I, um, the development stage of my old company is also at a, they were weren't exactly looking for expansion or anything. Yeah.
Unknown Speaker
Um,
Vicky Meng
so I just knew that I wanted to, although it was very nice to be the strategic partner, but I'm also a very technical person at my age right now, I just feel like I have not yet built up a very solid foundation for my career where, you know, I could say, this is the area that I've been working on for so long. And I know every detail about it, I could apply it to any corporate scale. I don't have that skill set or that career path that I could rely on, say, that is what I do. I was sort of like a generalist, which is a very good thing to have to be. But still, I felt like I needed some specific career track to depend on. So that's when I really looked into it, a program that could help me figure out, so where is the specific? What exactly, exactly is the specific track that I could put all my energy towards that area for the next decade?
Scott Anthony Barlow
Interesting. So it sounds like you had outgrown the company. Yes, in terms of what you wanted, was no longer what they were able to provide in that same way for your as a related to your growth. And then it sounds like you came to that conclusion. And then at some point, must have asked the question, well, what's what's next, then? How do I find your that type of next next step? Yeah. What happened from there?
Unknown Speaker
Um,
Vicky Meng
I, well, I started looking, I started to go to various events. From where I come from, and the culture that I grew up in, to find help is something that, that you're not supposed to be proud of.
Scott Anthony Barlow
So me about that.
Vicky Meng
So my upbringing, my upbringing tells me that you have to depend on yourself all the time, especially when you encounter a difficulty, you should do a bunch of self reflection, which is right. But you you should, you know, work hard, as hard as you can make yourself go crazy. And you find a way to navigate, you know, through the crisis. But for me, I, I was willing to work hard, I was willing to work 200% hard, but I didn't know where or how to put that energy. So I went out to different events. I started going, going to these recruiting events from my the university that I attended, and all these like career related events around the city. And that's when I first encountered my my first career coach, a person who, who has worked in the public accounting industry because at that time, I was still sort of exploring the idea maybe I could still go with public accounting. Yes, I worked with her for on a monthly basis for about a year. And that was kind of like me testing the water with this coaching idea and And I'm getting help, too. And getting help. Yes. And I realized that talking with her every month was a happy moment for me. Because I was so unhappy, you know, with my job on a day to day basis that talking with her, even if it's just for one hour each month, felt like a way out, like I could actually felt like, make me feel hopeful. Like I could actually make this happen, someone out there is dragging me out of this. This, you know, very bad situation. Um, but I also realized, at the end of probably a year into working with her that once per month wasn't enough for me, I make progress Little by little, um, I did test, or I did while working with him, I did reach out to a couple of companies in the public accounting sector, and try to explore the ideas of still sticking with the county. It didn't work out very well, I still didn't feel like that was the way to go. But you know, I did get myself on track into in terms of, you know, interviewing even and saying no, or crossing out some of the possibilities on the list.
Scott Anthony Barlow
What made you feel like, accounting was not for you? I think it's awesome that you were exploring and trying to figure out Hey, is this is this in fact, right for me? But what after doing a bit of that exploration and having some of that reach out? What caused you to say, you know, what, this most definitely, isn't it?
Vicky Meng
That's a good pressure. For me, I am an E n. f. j. At night, I think a lot of times for me, it's the feeling and the feeling isn't right. It's just, it's, it's not right. Well, I interviewed for accounting, consulting with a really great firm, and I got the offer, the team was great. I, like I could see myself thrive in that team environment. But when I think about doing the type of work that they do, and helping the type of clients that they were helping, because we're specifically targeting law field clients in like law firms, law firms, where they're all of their clients, I couldn't, I don't see myself very excited about that. industry. And I can definitely do the work, but I just don't want to advise on you know, how this is how you, this is how you do your books. This is how you you should you know, debit does credit that? Yeah, um, it didn't very exciting me at all. When I think about the details of that job on a day to day basis, even also, people
Scott Anthony Barlow
yeah, and it doesn't really seem to have that same type of variety that you were talking about earlier. On. It's not this. It's I mean, certainly, you can get variety in accounting, but it doesn't seem like the combination of all of the different experiences and the gathering of the different experiences and being able to, to use them in a way that like you were talking about earlier. It seems Yeah, I'm sure that in some ways.
Vicky Meng
Yeah. I mean, county is definitely something that happens, you know, it's often at months and right, all the activities have already happened, they became reality. Yeah, find a way to summarize and record them in the right way. But I think what I really wanted was, I want the action to happen. I want to be a part of the action, you know, day to day basis, I want to see that happen, that the decision that I'm making right now is going to affect the company today, or this week. And if it's a bad decision, then oh my gosh, it's a lot of pressure. But still, that's that fast paced, feeling that that's the kind of impact that I want to have.
Scott Anthony Barlow
Well, that's super interesting, too, because I think that there's a lot of patterns here for you as well that I didn't even know about and you know, I as we got to work with you, I have gotten to know you a bit and then also Philip, your coach that you work with has been keeping me up to date on your story for the last 810 months here. And what is really interesting to me about what you said is that accounting is very past focused Yes, and even, you know, even as you were talking about your interaction with that first career coach long before we ever met you and everything to a, what excited you was about the possibilities in the future. And everything that you you've articulated so far has been about, in some ways that that future focus or that, you know, proactive focus or being a part like I, you said, being a part of it. And yeah, other versus just like recording it. And I know, that's a drastic oversimplification and not meaning to undermine anything that that accounting does. Because accounting is a great field. However, it's, it's a different focus entirely.
Vicky Meng
Yeah. And I have two more things that I wanted before I forget about why I chose happened to your career in the end. The other reason, the other thing that I realized while working with that career coach on on a monthly basis is that I really need a structure, a set structure, with that career coach, I did not have a structure. So every month, I sort of have to come up and email her, you know, this is what I want to do this for this session, which is also something that I need to do with HTC. Just to be proactive, and to you know, work well with my coach, but it's different when with a CIC. Philip kind of knows what stage I'm at in the whole course of things with that coach, previously. There was no deadline, there was no set timeline, it was just like, you know, if you ever encounter a problem, just let me know. And I'll help you there was no structure. And I didn't really know, at what stage I I was, should I? Should I reach out a little bit more? Or should I not reach out in the stark show? Or should I? Where should I go? Like, what should What can you tell me what to do versus me telling you what I need, because I don't know what I need. So that's one of the reasons why I chose a CIC is because there is a structure that nine modules, I view that I know Philip does not agree with me on this. But when I first told him, I'm like, I need a syllabus and this nine model, literally my syllabus, I'm going to follow this. And then after I finished all the eight, nine modules, um, when I finally found the perfect career opportunity, I think this was starting from August to so from February to August, I just followed that structure. And then from August to October slash November, I applied all of those eight modules, customize it in my own way. And made it like, Okay, I'm working on a final product for this class, I'm going to deliver the best final presentation and my me getting that final offer is like my final project. And I feel like I deserve an A, because I was able to apply all the methods from those modules. And I you know, and I did it on my own. So that's how the way I feel about HTC in a way, and I really liked it.
Scott Anthony Barlow
So first of all, so excited to hear that. And it sounds like what that did for you that structure was you were able to see where you were at, and where you were going as well, if I'm understanding you correctly, and it helped you. I mean, you didn't use these words, but it sort of made me think like it helped you keep on track in many different ways. And it helped you pull it all together at the end too, which interestingly enough is similar to what you did, as you left that last role to you were able to Yeah, pieces of and I'm a big subscriber to how you do anything is how you do everything. But I and that really shows with with strengths too, especially. And it's so first of all, thank you for saying that those are very kind words and I'm so it makes me so happy that you were able to leverage our framework and structure in that particular way. And that Philip was able to help you in the ways that you needed it. That's pretty awesome. And, you know, one of the things that it makes me very curious about too is, you know, as as you started to get into this change, because you had decided, Okay, I need to make a more drastic change than what I was thinking more drastic than just going and working with another organization with accounting. And as you started to get into it, what surprised you in going through this type of career change process because what you have done, and I'll just fast forward to the end for just a second you you were able to not only make a pretty sizable change, but also you did a new organization and new industry if I understand correctly, too. And what what surprised you as you're going through the this process over the last 10 months here?
Unknown Speaker
I think
Vicky Meng
I don't think actually, I was surprised by this process, I kind of expected how unstructured is going to be. And that's why I really held on to the idea of structuring in place and knowing where I'm at. Because I know this career change is not like a class, it's, there's no syllabus, you can't follow, you know, a timeline, it's so different, it could change at any moment, I came with that expectation. But knowing that, that's why I really needed someone to continuously motivate me and push me and let me know where I'm at. Because, because if not, then I'll be just, you know, doing whatever, I'll be able to all be very scattered. But I think what was scary was, from February to August, I don't think I was making any progress.
Scott Anthony Barlow
Tell me about that. What made it feel like you're making no progress.
Vicky Meng
Um, because before August, I was, you know, following the structure, I was doing the modules I was reaching out, but the frequency of me having a conversation was probably only two per month. Yeah, two to five per month, it kind of varies. And to begin with, because I was so scared to reach out to strangers, a lot of those conversations started with people that I kind of knew before. And when it was when August hit July heads, I remember telling Phil, I'm like, this is not going anywhere. Um, I definitely doubted myself and doubted even this decision many, many times. And that's, and I was still like I, even though I followed the syllabus, but I still was able to define what my ambition was up to that point up to August. Um, I tried to Treasury, I tried financial analysis, and they were still both on my list. And I still feel felt like, Oh, I could go either way. And I talked to some of the large organizations or tech companies in the Bay Area. And it was just so competitive to because maybe because of COVID. But I think more importantly, it's just because that industry, and with those companies, they're so popular right now that they never lack applicants. So even though some of the people that I talked to in there, there were managers, and they looked at my resume there, say, Oh, your resume is amazing, but because I don't have the direct industry experience, and the direct working experience, I guess, on that corporate skill, even if they submit my resume into the system, and they helped me submit on sort of like a referral, it's still very difficult to be recognized by the hiring manager, because there were just too many people applying. And I felt like I could try harder, I could, you know, network even more within that organization, just to find, you know, at least one opening that day, or one person was willing to bet on me. But I, at the same time, I was only filling this, like, I don't feel like doing that with this organization. Like, there's so great other so popular. And it definitely I thought that I wanted to move out to the Bay Area ever since two years ago. And I thought that's the whole point of me participating and having to your career is to get me up there. But I don't see myself working so hard for any of the organizations out there just because I'm not asked I don't feel the passion and myself towards what they do. And that kind of hit me in the end that you know, and this is like fast forwarding to, you know, my second little after my second point already. That's when I finally realized that okay, maybe this white And moving to the Bay Area wasn't right to begin with. And I think that surprised me, I guess in the end, because I never expected myself to stay in LA. But when I finally hit that moment of realization, everything clicks so fast afterwards, because literally the next week, I reached out to the manager of my new organization. And the location of urbanization is perfect, and the role is perfect. And this manager, he recognizes my potential fully, in at least in in the way that I want people to recognize me. And I interviewed and then I signed the offer. It was literally like two weeks after I realized that everything just clicked. So I think it's what surprised me was how fast it could happen when you finally get everything together.
Scott Anthony Barlow
I think that's, that's so interesting, especially since you said, You are on Myers Briggs, which, you know, you were talking about your Myers Briggs results, which you said you were an N S, JF j. Okay. So that means that for people who may not have taken Myers Briggs Type Indicator that you rely heavily on, you know, feeling and if it feels right, and this sounds insane, but we see it again, and again and again and again, and you can go listen to the other. Yeah, hundreds and hundreds of episodes, once people start to get it to where it is more authentic to them, the decision in the route that they're taking is more authentic to them. It clicks so quickly, after that, it's not always two weeks like that's, that's relatively quick. As far as things go. However, it starts to quick or starts to click so much quicker once you get those pieces right. And as crazy as it seems, Vicki, I think what you went through, and in going through and doing some of the work and the identification and everything that came along with all the hard pieces along with it almost had to happen in some ways to get it to finally click. And that way you could start really moving forward in the way that you want to. It's Yeah. What was that? Like? Why do you think it was so hard to come to that conclusion for you, and make the change and say, You know what, I don't even really want to like, I've been working hard on this. I don't even really want to go this stretch.
Unknown Speaker
Yeah, yeah.
Vicky Meng
That's very interesting. I mean, it's so liberating. You know, right now, I know, he can't tell you just from looking at me, but in my heart. Ever since that moment of realization happened, I felt so liberating, liberated, like, for the first time in my whole life, because I guess for the previous 27 years, I've always felt like that I needed to live up to other people's expectations. And usually it was, you know, usually my parents, but then it became my peers. So going on to the Bay Area, definitely was me, trying to live out my ambition in the way that satisfies
Unknown Speaker
my ego.
Vicky Meng
To put it simply, I want it to be admired by my peers, I want it to be in my, you know, admired by my family members, saying, wow, you know, she, she made such a drastic change. She's working with one of the big tech companies in the Bay Area, she's getting paid a lot. You know, that's probably how people define success for a lot of people that I know and, and it's, it's just the hype around that area and that area that sort of made me feel like oh, you know, if I want to be the best, which I always want to be in my, I'm very competitive in nature, then I should get in there, get into the game, and be the best in battery and beat everyone else. I think that's why I've always thought that that's the place to go. But Barry is not Vicki at all, um, Los Angeles is definitely more of Vicki. And that's why like realizing that right now, I just feel happy from the bottom of my heart because it's not about how famous my new organization is. It's about how much I am aligned to what this organization does. And how excited I am to work with my new manager and thinking about the contributions that I can make to the team. And it's also about the industry that this company is in is also an industry that I deeply care about, like, on on the weekend, I'll read about this industry just because I'm interested in that. And it's, you know, I want to read about tech industry, honestly, in my free time at all.
Scott Anthony Barlow
That is, that is so cool. I'm trying to think of the right word, you know, I know what the right word is, I'm so proud of you. That is to put it mildly. And I think that's so cool when partially because I think some people will go their entire lives without having that type of moment, we're actually, we're in the midst of writing a book right now. And one of the things that it's not just me writing, it's the entire team effort to be able to make this thing happen. And one of the things that we were just talking about the other day, is the switch that happens, once you're fully focused not on other people's expectations, or even expectations of you other people's expectations. But then you focus more on what is true for you. And when you switch that focus, not only does it feel different in ways that are hard to describe, and I think you've done a fantastic job of describing what that is like for you. But it is also it puts you in a place where you can contribute to the world, and organization and family members and friends, it puts you in a place where you can contribute completely differently. And that's something that's really difficult to be able to explain on a podcast or in a book or anything else to describe the types of feelings that happen after you make that switch that you were talking about. And I remember not that long ago, I think it was about a year ago, I was talking to a guy who was in his 70s. And he had had found us through Google and you know, ended up on a phone call with him. And he was telling me about he had gone through all 70 plus years, focused on other people's expectations. So I think it's so cool that you have done that my Far, far earlier than 70. That's pretty amazing. What, let me ask you two other questions that really badly wanted to ask you about. One. You know, when I remember a point in time, where I guess it wasn't that long ago, it probably was, you know, back in back in August, where you were describing, you know, I really struggling and moving through a few of these pieces where you and I got on the phone. And we were chatting about a couple of different things that weren't working, and how to make them work differently. And, you know, the thing that I wanted to ask you about that is this, what were what were some of the things that as you're going through the process works particularly well for you. Or tell me about that.
Vicky Meng
So, yeah, I remember that call. And I definitely feel like that call, you taught me how to liberate myself also, because I'm interested, yes, um, I, you taught me how to just be myself, and be honest about my experiences. And that's the only way where you could find your own way, your own path. Because I was so worried, and sort of just complaining to you that, you know, there's such a huge gap between where I am and where I want to be my current organization is small. And what it does is, is in finance is different than you know, what I want to do and finance in the next step of my career. And when I talk to people, I feel like I have so much to offer, but because when they listen to my dark experiences, they they don't get excited about me as much because they just feel like that I have been in the wrong environment, I won't fit in with their environment. And you told me, you know, why don't you just tell them exactly what what you've done. And you know, even though my own organization did not have a ton of structure, which I suppose sounds like a bad thing, but in reality because it was losing structure, I got to work on projects that touch on different areas of corporate finance and accounting all the time. And that is actually the biggest value I have because not a lot of people understand the impacts of so many areas in an organization and I do and you know knowing having that background information and then try to dive deep in a certain area makes you go deeper easily. Because you just know, you know what you're doing. And you know, what role you are in this whole grand scheme of things. And you won't, well, hopefully, you'll make fewer mistakes. And so that's, that's exactly what I did when I was talking to the manager of my new new company, I told him that, you know, I was able to I was constantly in the, in your work constantly exposed to Treasury, even though I wasn't really working as a treasury analyst at my current company. But that's also, you know, the best thing that happened to me because I was able to do a lot of cross functional work, and I understand how everything plays into each other's role.
Scott Anthony Barlow
Yeah, that is so cool. I didn't, I didn't actually realize that, that that helped in that way that, that also makes me happy. And I really think that that is truly one of the best. I mean, it really is, like, we've talked about threads of that through our entire conversation just in the last 40 minutes or so here. Because, you know, it was, it was the thing that was the most fun for you being able to have exposure to all these areas and give advice on all these areas. And, and being able to see the impact from having exposure to all these areas and work with work with other people in the organization. And then on top of that, it's also your biggest value when when you when you started to harness that and really take ownership over that, that that is such a value. That's That's so cool. Vicki, what, Oh, go ahead.
Vicky Meng
Oh, I just want to say that, I think before I just felt so ashamed of my experience,
Unknown Speaker
and we're way
Vicky Meng
in the like, objective way, because how you people looks down or not looks not look down. But people, when they see an organization that's small, that's less structured. They don't necessarily associate a very competent employees employee with that image. But it just happened to for, for me that I feel like I'm a pretty competent employee. But I was working in that kind of environment. And I felt so ashamed to showcase or go out there and tell everyone, you know, this is the company that I'm working for. But at the same time, I really wanted to be recognized. And I think I can do a great job if I, if I was if I were put into a different environment, but I just needed someone to recognize me first. And after having that conversation with you. It was liberating, because I stopped being ashamed of my experiences. And what I did, I just went out there and told people what I did, and tell them why I think I was so valuable. And I could still add a lot of value to their organization, they gave me a chance.
Scott Anthony Barlow
So much of these types of big transitions are getting past the head games that we play with ourselves, many different ways. And it almost makes the you know, tactical like Job Change, career change type pieces, almost, they're not easy in comparison. I don't want to I want to give people any indication that they're easy, but easier by far in comparison, compared to moving through all of those pieces, like you're talking about, like the shame that went with how you viewed your past experience, which Yeah, it was great experience. It was wonderful experience, and it's who you know, who you are and what you bring to the table. That is that is really cool. What What advice, would you give someone else who is way back, you know, 1010 months ago here? You know, I remember right, as we were right before we hit the record button, you were telling me a little bit about you sent us an email on January 2, and you'd actually written that email on just in the week beforehand, if I remember correctly, and you were saying hi. I was doing this to be able to make sure that I made a change in in this year. Tell me a little bit about that. And then I want to ask you what advice would you give somebody else who's in that similar situation where they want to make a change going into the next year?
Unknown Speaker
Yeah, so
Vicky Meng
I think my advice would be, definitely have faith in yourself in this whole process, because it could get very dark, especially at the beginning, and you don't know how long the start process is going to last.
Unknown Speaker
But
Vicky Meng
it could certainly turn so bright that you go so fast that you don't even, you can't even capture everything, but it just, it could just suddenly turn around. So have faith, definitely, it will come the brightness will come. And the other thing is, I am a person who is big on y. So for each decision in my own life, I have to know my reasons for making that decision. I'm be so I send you all before I finally sign up HTC I was thinking of i was i was listening to your podcast, and I think I at that time, I had been listening to it for a year or so. Um, and I felt a connection with you even though I've never at that time, I've never met you. But I felt a connection in many of the episodes that I listened to at different times. And I think that helped me finally make the decision that to know that this is the right thing to do, because I feel so can I feel understood from your podcast episodes. And it was at the end of 2019. And I just knew that 2020 has got to be the last year were last year for me to work at my own organization. And I really wanted something to happen in 20. So right after New Year's Day, I sent you an email, exactly like you mentioned how you said it in the podcast, you know, with the title conversation, and just say you're Scott. And tell me about your story. And that's exactly what I did. It was an obnoxiously long email. I remember what I was reading it last week, I just wanted to kind of look back on how everything started and happen till now. So long. Oh
Unknown Speaker
my gosh, I
Scott Anthony Barlow
I love those emails.
Unknown Speaker
I love them.
Scott Anthony Barlow
I love what I do. So I love getting those emails. And so
Vicky Meng
yeah, so it was like on January 2, I sent you that email, and I took a screenshot of it. And I saved that screenshot on my desktop. Because I just wanted to remind myself, you know, that was my New Year's goal. I I just made a whole big deal out of it. And it is a big deal. It is a big deal. It's been five years and I've been contemplating about those since 2018. And I'm finally making this change with a program that I feel like I've I know very well because I've listened to you guys for more than a year. So I just felt like you know, every step of the way I I checked everything on the list. I think this is the right thing to do. The timing is perfect, it is the start of a new year. And I I just got to do it. So that's what I did. And I think having because the beginning
Unknown Speaker
happened
Vicky Meng
exactly the way that I want it to happen. And I to this day when I think about it, and now when I talk about it, I still remember how hyped I was how excited I was when I hit the two low points in the past 10 months, I actually you know clicked on that screenshot and looked at that email again and I told Philip I have got to make this happen. This was like my single goal for to 2020 and if I don't make this happen, and I want to happen before my birthday if I don't make this happened I don't know how I'm going to be 28 I don't know I won't be able to celebrate at all i will i kill myself. Um, and yeah, and that's, that's I think the beginning is very important because it just makes you remember how important it is when times get hard. And also the worksheet your it's called your plan for when it gets hard. Yes, that's in module one. I also plan pulled that out a couple of times, I think in August and also in October when I feel felt like, I don't know where this is going. And I read what I wrote, why am I doing this? I had so many reasons. And I, I still looked at it this morning, and I am so glad that I'm actually checking off everything that's on that list. I do want me to share what was on that list? A couple I am.
Scott Anthony Barlow
Yeah, absolutely. I'm super curious. Yes,
Vicky Meng
I wrote, you know, I want to find the best fit career track for me to pursue for the next 10 years. I want to upgrade my career platform, because I know I have what it takes. I want to find a leader who will also be my mentor. I want to change the way I see the world and the way I see networking. I want to build up my resume and threshold and become become a more top up become more tolerant of rejection, and learn how to turn a no into a yes, without getting angry. Those are the things that I wrote to answer the question, why do you want to make this change on that worksheet. And I'm, I literally did all of that, especially, you know, with the networking part now is such a natural skill in me, I can see myself using that or applying it in every aspect of my life. So it's, it's amazing, it's a pretty good feeling. And because of this feeling, I think all the dark moments, they were worth it.
Scott Anthony Barlow
That is so cool. And you know, what else I think is really amazing. is okay, you declared all this for yourself at the beginning of the year, and said 2020 This is it. And then in a year when we had a worldwide pandemic in a year where so many other people are just like, when is 2020 gonna be over already, like in a year when so many other people are essentially giving up. And I mean, we've had real terrible things happen in the world. And it's made it hard and across the board, but in a year where so many people are giving up, you have pushed through and figured out a way to make it happen. And I think that that is so very, very amazing. astounding. And I am I'm super excited that you were letting us be along for the journey, and that we got the opportunity to help and I'm just so proud of you, Vicki, this is so cool.
Unknown Speaker
Thank you. I
Vicky Meng
mean, it's definitely I credit a lot of those two ways to yc to I would not have been able to do it do this on my own seriously without Philip without you Without the podcast, the program. Um, I just love the continuous motivation. And I loved how Philip always was there for me, even though when I had nothing to share, you know, on a particular week, our conversation was still motivational enough for me to power through the next week. That's what I loved about this whole process. And I make friends. I think Philip is definitely a friend now. And he has his career and I'm excited for his career.
Want to know the very best way We Can help you?
Fill out our "Help Questions" and talk to our expert coaching team about how exactly how we can support you!
Let's do this already!