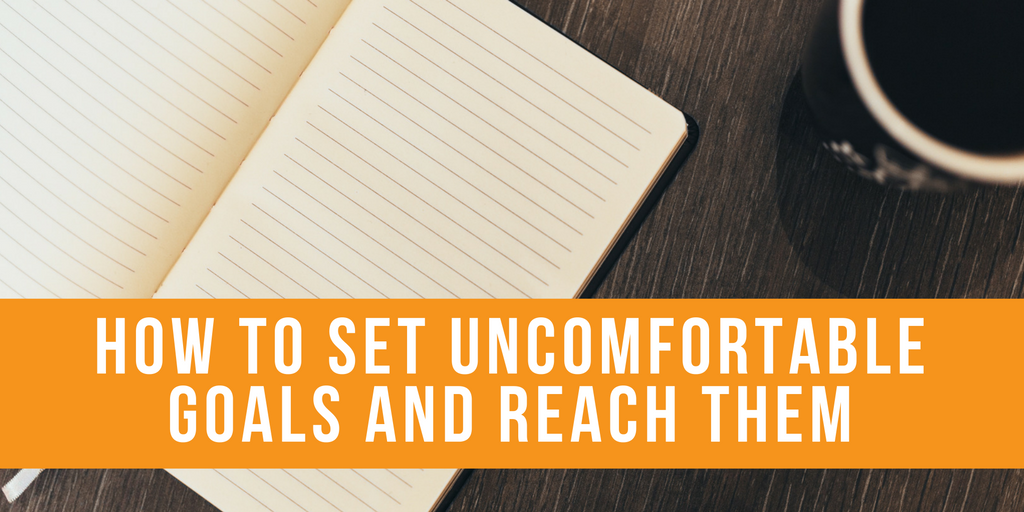 "We all want to see a video of your Kong Vault!"

That's what I got back after sending out a few of the themes from our past five years of goals yesterday!
Alright Rob (and everybody else who asked or those of you who have no idea what a "Kong Vault" is). Here you go. Video is compliments of my 9-year-old daughter, Mackenzie.
2016 Goal #3 – Accomplished.
Check mark.
Here's the thing most people don't realize though (and very few people ever think about!):
If I would have set this goal five years ago, I would have failed miserably.
Why?
Because it wasn't possible for me five years ago. I, literally, wasn't flexible enough to do this.
Think of every new year's goal more like stair-steps building on what you've done previously.
When you hit one goal, it allows you to build on that as you're setting new goals.
If you think about it that way, you begin to realize that nearly anything you want to do is possible in your life.
I first decided I wanted to work from home and run my own business over eight years ago.
It wasn't possible for me at the time, at least not in the way that I wanted to (you know with getting to eat and use plumbing and things like that).
But, stair-stepping every single year and building on that made it completely possible by removing six figures in debt, getting a raise so that Alyssa could quit her job, and then changing jobs to free up my time and keep my energy high.
The other thing most people miss is that you must be uncomfortable about your goal!
I'm a huge fan of the way Michael Hyatt, former CEO of Thomas Nelson publishing, described it on his free training that he's giving today.
Your goals must be in the Discomfort Zone (not the comfort zone or the unrealistic zone!)
Because growth (and really all the best things) happen outside of your comfort zone.
At the same time, if you want to win the Nobel Peace Prize this year, that's probably not realistic unless you already have something in the works that would be considered!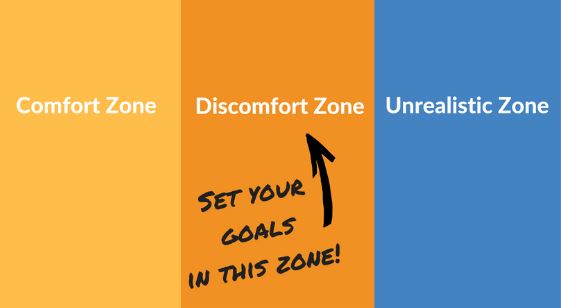 Every single year, Alyssa and I have spent about seven or so hours, as a couple, over multiple days trying to figure out how we want to be spending our time the next year.
After much, sometimes painstaking conversation (with a little negotiation), we end up with goals that we set out to accomplish for the year!
These are very often the hours that have the most impact on us than any other seven hours the entire year!
You don't have to set goals with a significant other, but we find it works well for us and helps us to both be working toward something truly meaningful to both of us and always brings us closer together (even if we disagreed on what the goals should be at first!)
Here are 3 of the biggest takeaways that we've learned over the last six years:
If you're inspired by the goal and it excites you, you're more likely to push thru when it gets hard

When you keep the goal in front of you on a regular basis, you are more likely to achieve it – I keep it present by posting it in places where I will see it every day

All dreams and aspirations are exactly that, "dreams" and "aspirations" UNTIL you write them down and make a plan
Even if you don't hit your goal, you will often be surprised looking back at just how far you've come AND how much further along you are compared to if you hadn't set the goal in the first place (it took me 3 years to lose 50 pounds and keep it off!).
If you're interested, here's what our goals were for last year (you can view my personal evernote file). I give myself a B+ on achieving them.
This year, Alyssa and I have been using Michael Hyatt's "5 Days to Your Best Year Ever" 2017 goal planning system, (partially because it's fun and it's based on the exact same goal and planning principles that I believe in and have used for years).
Here's what Alyssa loved about it:
"It gives you a different way to look and think about goals AND the short videos make it easy to be accountable to doing them in the first place."
BTW, New York Times bestselling author, Michael Hyatt is going to show you, step-by-step, how to use goal-setting to reclaim control of your days and turn them into the life you really want.
It's 100% free, but I know his webinars always fill up fast.
Grab your spot here:
http://bestyearever.me/a20513/2017webinar
I attended his training the other day, as someone who makes trainings like this for a living, I will say that it was one of the most well done trainings that I have seen on Goal-setting out there (and there are a lot of them).
At the end, he will offer you "5 Days to Your Best Year Ever," which I personally use and recommend. But, even if you don't decide to purchase it, if you take what he says seriously, it may be two of the most valuable hours you spend all December long!
BTW, if you decide to purchase Best Year Ever, send me your receipt and I will give you free access to our Self Guided "Figure Out What Fits" course and "Intro to Side Biz MBA" worth $347.  
I know that if you're reading this, you probably want to make an impact on the world. And learning and actively practicing the skill set of setting and achieving goals is one of the best ways to move you down that path!
Sign-up for the training below!