Tracey (me)
Day job:  Quality Control Microbiology Lab Supervisor, Medical Device Industry
Side Hustle:  Virtual Concierge for Podcasters in the Personal Development Space
I live in California with my girlfriend and two fur children (cat Pippi and dog Reilly)
Results:
Greatly accelerated total debt payoff efforts, reducing timeline from 14 years to 3.5 years!
Signed on a second client within 3 months of starting virtual assistant business!
HTYC Resources Used:
FREE 8-day 'Figure it Out' email course
Nice to meet you!  I'm a Lab Supervisor Who Identified What Was Important in My Life and Then Devised a (fun) Plan for Getting There!
I got myself into a LOT of debt after college.  I started out looking for a job in my field (biology) in early 2000 (when the economy was strong) and found one right away.  For the first time in my life I had a serious income and I certainly enjoyed that, buying a brand new car (my trusty '01 Civic – I actually just retired her last year!), and living in my own apartment.  I bought music equipment on credit and never worried about anything.  At the urging of my boss I FINALLY and VERY reluctantly started contributing a piddly amount to my company's 401(k) plan.
Then I moved across the country.
I moved across the country bringing my NJ debt with me to Spokane, WA where yes, the cost of living was cheaper, but where I had no prayer of finding a job that paid anywhere near what I'd made back home.  I put my student loan on hold (where it continued to accrue interest), paid minimums on credit cards, and so on.  You get the idea.  Not good.
It Gets Even Better From Here! (actually it doesn't)
So, after spending a year in Spokane and nearly doubling my credit card debt burden from the time I'd left NJ, I cashed out my 401(k) and left for San Diego.  Long story short, it took me another TWO YEARS before I finally landed a job that put me back in the salary range I was in before I left NJ.
When the economy tanked in 2008, thankfully my company didn't lay us off.  Instead, they cut our hours AND our salaries back by 20%.  I panicked.
Turning Things Around
I entered a debt management program.  This was the BEST decision I could ever have made.  I learned to live on a strictly "cash and carry" basis and was forced to COMPLETELY changed my relationship with money.  Just over three years later, I was out of credit card debt.
I started devouring all of the personal finance information I could get my hands on, in the form of books, blogs, and podcasts, constantly searching for more info and fresh perspectives on how to beat debt (I still had a hefty student loan debt and a modest car loan) and how to plan for retirement.  My search led me to a show called the YoPro Wealth podcast, where I eventually heard Scott's interview with Austin and found HTYC!
Baby Steps…
I took the HTYC free email course and gained a TON of clarity from the exercises around what was truly important to me, what I loved so much I could spend a lifetime doing because it DIDN'T feel like work.  It was like putting on a pair of glasses with the correct prescription after years of wearing the wrong one and not knowing it.
My friends and I founded Throw Down for a Cause in 2010, wanting to do something about the startling increase in teen suicide we'd be hearing about.  Now entering into our 6th year, our annual fundraiser event has brought in over $30,000 in much-needed funding for organizations that provide services for homeless and at-risk teens, both locally in San Diego and nationally.
This is the thing in my life that I do purely out of love, love for the contribution my team and I are making, but also love for the personal (and professional) growth that has come out of it for me.
What's Next?
I'm on a mission.
I want every single person in this world to have a "Throw Down" in their lives, something they feel so strongly connected to, a way to make their own unique contribution to the world, something they just can't NOT do.
I don't know if it'll be a podcast, a blog, a national fundraising organization, or something else entirely (OR all of those!).  All I know is that I'm on the right path!
Being debt-free will bring me the freedom I need to fully pursue everything and anything that comes my way.  I realized in this process of self-discovery that in order to accomplish this, I absolutely needed to bring in a second stream of income.
I decided to take my love for social media, marketing, organization, and personal development and create a business for myself.  I reached out to a podcaster I'd been following and asked for guidance in starting a virtual assistant business and I gained my first client!  More recently, I found my second client the same way!
I love the work (again, it really doesn't feel like "work") because it combines skills I enjoy using and developing and because I get to help out the very folks who've helped me so much!  I also know that what I'm learning "on the job" will serve me in the future as I build my own online business.
Here's what I think helped me get my business off the ground so quickly:
I knew what I wanted to do (and what I wanted to learn more about) as well as what I was good at already.
I found my love for social media and marketing through my volunteer work (Throw Down for a Cause and our sister nonprofit, Project LOL (Love Out Loud)).
I am super-motivated to learn about the "behind the scenes" of online business and I make that clear.
I REALLY want to get out of debt.
I knew who could help me get my business started and I wasn't afraid to reach out to them for help.
I know that the people I surround myself with are a HUGE factor in my success, so to boost that even further, I became a Live Your Legend Local Host in San Diego to meet more local entrepreneurs.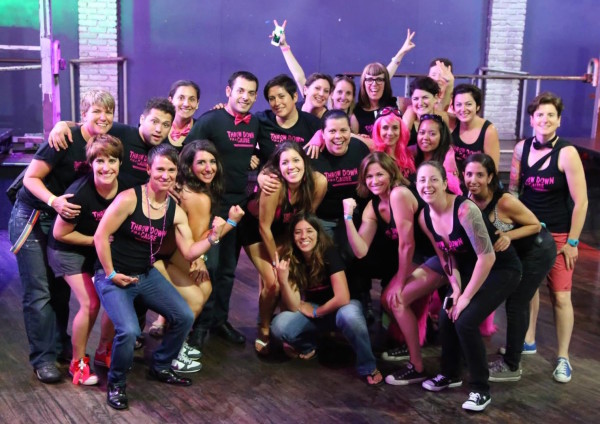 My Advice:
Get crystal clear on what moves you, what lights you up.  Think about what you do that doesn't feel like work.  Explore it further.  Once you know where you're going, you can put a roadmap together to get there!  It doesn't have to be perfect.  It just has to get you into action.
Constantly be learning.  Read.  Listen to podcasts on your commute.  Talk to people.  Feed your curiosity!
Put your ideas and your plans out into your network!  Tell everyone what you are up to.  You really have no idea what can come of it!
Go one step further and find someone you want to learn from and approach them for help.  Maybe you listen to a particular podcast regularly and want a little guidance from the host?  When you see that "what are you struggling with right now?" at the end of an email newsletter, hit "Reply"!  You will be glad you did.
I was only able to really get SERIOUS about smashing my debt and starting a business AFTER I figured out what was important to me.
Do you need help figuring out what you want so you can find the work you'll love?

 Click to enroll in our FREE 8-day course!