Review: GIYG.me Infographic Resume (Get In Your Groove)
As seasoned veterans in the career industry, I get approached constantly by companies that peddle "resume builders" and "CV design web apps".  
Almost all of them have headlines on their home page that say something like "Stand Out from the Crowd with Your Resume".
The ironic part?
Many of these "stand out from the crowd" taglines have begun to, well, sound exactly the same…
So, when I was approached by Jim, the Founder and "Mastermind" behind GIYG.me, it's safe to say we were more than slightly skeptical.
Based on our own core values, we wholeheartedly believe that what YOU have to offer a company is unique, simply because there's not one person on the planet with the exact same strengths and talent combination (even if you don't have a full grasp on what exactly those are yet!).
With that in mind, the prospect of finding an easy, cost-effective, and stimulating way to showcase those strengths was intriguing.
But let's back up for just a second.
There are many ways you can differentiate yourself 
When in job search mode from how you present yourself (in person, on paper, and online) to creative ways of approaching people and opportunities, and beyond.
Here's the adult spin on a classic: What's black and white and read all over?
Well, it's definitely NOT your resume. The sad truth is that the hours spent toiling over which action verbs to use were in vain if the hiring team is not interested enough to read it.
(I know this because I was in HR for years before starting HTYC)
Here's how we reframe it: how can you make choosing you easy for them?
You know that feeling you get when you're at a restaurant and you're starving and you see your food coming?
("Oh Lord, finally!").
THAT'S how recruiters and hiring managers feel when they come across an applicant that piques their interest and shows some promise 
They WANT to fill the opening. They want YOU to be their solution.
…So how do you cut through the clutter and get on their radar? Or how do you guide leave them with something compelling prior to an interview (or during the interview)
By showing them more of
who
you are, not just
what
you've
done.
Enter, GIYG.
GIYG takes the painful process of "how do I put together a marketing document (because that's what a resume or anything else that you're sending to them is) that is particularly useful and relevant for the situation?" and turns it into a simple roadmap that eliminates most of that struggle.
By including a GIYG infograph with your resume, you're more likely to get hired for things that you value- which already sets you up better for a long-term match. The reasoning behind this is because it allows you to articulate unique dimensions of yourself to companies in a way that is going to be very useful to them at the same time… Plus the added benefit of standing out because the visuals are so rare to see, especially with such diverse and adjustable formats and looks.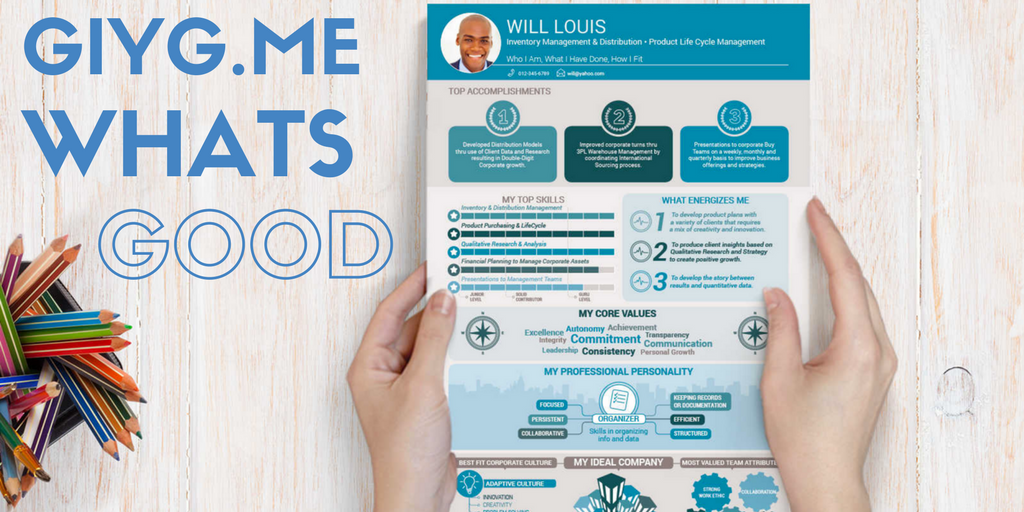 What's Great About GIYG.me
Remember our skepticism from earlier? None of the other resume tools are doing the same thing the same way so that, by definition, is a standout. There is also something to be said for the confidence built from knowing that you're walking into interviews with an ace in the form of impressive visual appeal and dynamic content.
When you know and are able to communicate your personal dimensions (values, skills, culture fit, needs, strengths, etc), you begin to interact only with companies that align with those since they're displayed up front. Serving you further by filtering out poor fits, GIYG saves you time and energy better spent on other opportunities.
And, at the end of the day, you're hired for who you are, which is an incredibly exciting thing!
You know what else is exciting? How inexpensive it is! There is a free (GIYG branded) sample template with insights, but it's only $14/month to remove the branding and access a full version (which is much less than the $35-$40 range I had assumed it would be!).
Our take? It's a fantastic investment when you consider that you can land a position with a potential pay increase. Much more important than that though is getting a job that's aligned with what you want!
Here are the top reasons GIYG is great
1. It's NOT a resume replacement but most often rather a compliment to your resume where it's most useful (it provides different information)
2. It provides full editing capabilities (Fonts, Themes, Colors, Etc) and their founder shared with me that they are adding more regularly.
3. It communicates (and focuses) on who you are, not just the "what you've done" on a standard resume.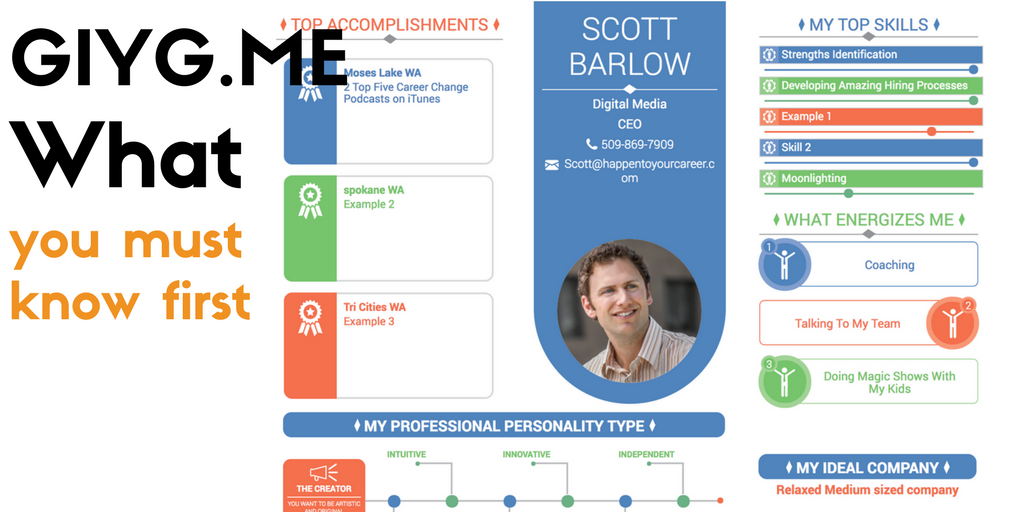 What's Not as Good About GIYG Infographs?
There are 3 main areas that I found that were less than stellar from GIYG.
1. When employers start seeing lots of these years in the future, it will no longer be a surprising standout, but rather an expected standard. However you can take advantage of it being "different" enough right now so that it causes you to actually stand out since these aren't widespread
2. I reviewed this and found that it didn't have the ability to make copies of your other GIYG graphs and you had to go entirely thru the wizard again. So I emailed Jim and said this is no good! He emailed me back a week later and told me his developers had added the feature!
3. I would have liked to see more template options. I asked Jim about this and he said that was the most common piece of feedback that they had and were planning on adding more inside the month. (talk about awesome improvement)
It's also not for everybody (yet!) – see below.
Once you've filled out the base of your info, you can easily make duplicates and tailor multiple versions to specific jobs without going through entire wizard. (Now you have time for another episode of your new Netflix show… or, if we're being honest with ourselves, The Office. Again.)
Who is this for:
This tool is definitely for someone in their job search who has already done most of the work in determining where it is they want to go, what a great company/role would be for them, things they value most, as well as an overall awareness of their top skillsets, strengths, and what energizes them.
In our opinion, this personalized infograph is not meant to be a replacement for your resume, but a complementary supplement in a way that nobody else is going to do. We feel that it will distinguish you, support your resume, and align you to opportunities that share your values and strengths.
Because it makes so much sense and is so useful in the hiring process, we feel that it will become the new standard eventually… but we are also sure that GIYG will remain ahead of the curve and continue to evolve to be a step ahead as they are now.
Who is this not for:
Basically, the opposite of that. If you don't know top skills, strengths, what energizes you- then hold off, start with other resources to get your foundation sitting right. We welcome you to start with our free guides or email course, or feel free to reach out to our career coaches in order to go through the process of understanding what a good fit even looks like for you, strengthen targeted company alignment, and ultimately extend your fulfillment… THEN go back and use GIYG. The tool allows you get your Picasso on and create something masterful, but you have to know which colors to paint with first.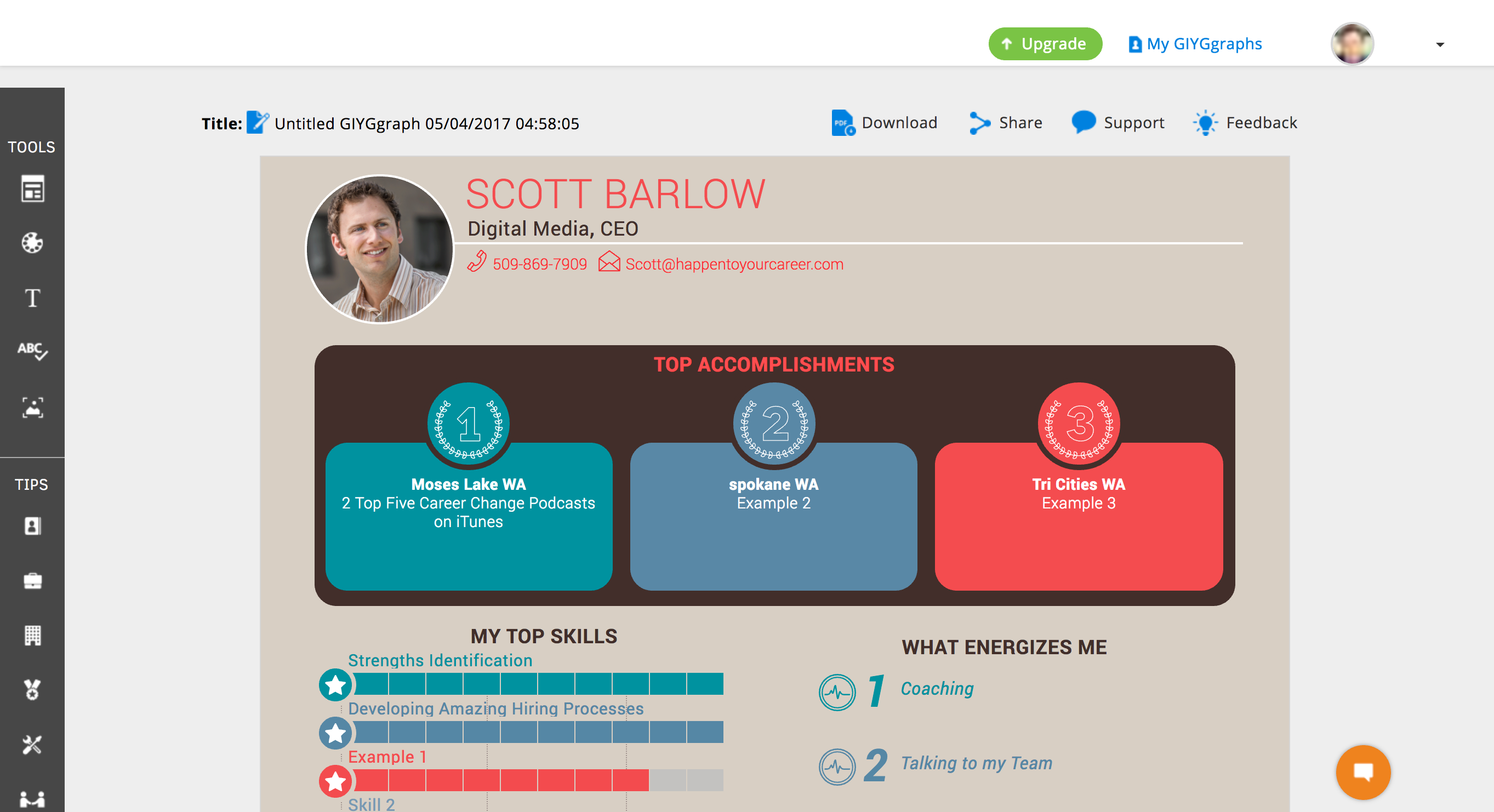 Summary: Should You Get GIYG.me from Jim Schrimpf and team?
So, in summary- you will have to do some of the work upfront, just like any other resume builder, thinking through what is most relevant for the person who will have this in hand to make adjustments accordingly… you can't replace all of the legwork, but a pretty hefty percentage, which is pretty cool.
Also this GIYG.me works best as a complement to a well written traditional resume because having a toned down non-visual resume is still what will get thru (some) applicant tracking systems the best!
However, if you're going thru the "back door" like we teach many of our students to do, then bringing both a GIYG infographic resume and a traditional resume along to the party will better help you communicate who you actually are (and therefore have a better chance of getting hired for who you actually are!)
Bonus
I reached out to GIYG.me founder Jim Schrimpf and asked if he could give HTYC'ers a deal that nobody else was getting (because I loved the product)
And he didn't disappoint!
When you click here and register for GIYG.me and choose the premium package, you can enter the coupon code "HTYC" and voila you will magically get the premium package at the pro price ($14 which is a steal)
Please let me know what you think of the product and any success stories or thoughts you have on it!
CEOs Note: To be incredibly clear, when you sign up for GIYG, I recieve a small compensation (very flippin small, it's a $14 product) but I want you to know that I only put tools and products in front of you that I or my team uses or have personally vetted. (Seriously there were other resume builders out there willing to pay much more money, the only problem was I didn't think their product was great or all that useful)
I promise we will only ever put products in front of you that we love and will be truly helpful AND it costs you the same (or a much better deal like GIYG) when you go thru us!