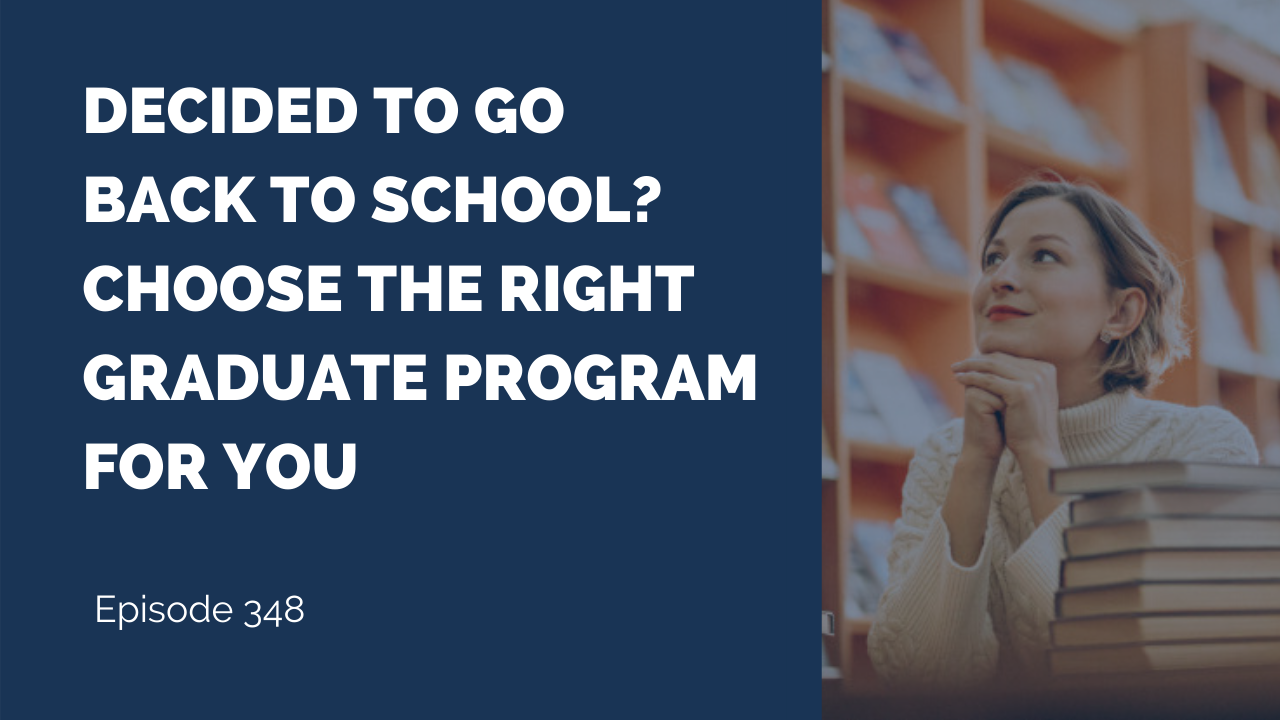 A revealing interview with an expert
on how to choose the right program for you
Want to know what to do when your Masters program is no longer a fit?
What happens when you change your mind while you're already in school?
How can you prevent a nightmare when going back to school?
Anne Converse Willkomm Department Head of Graduate Studies and Assistant Clinical Professor at Drexel University's Goodwin College of Professional Studies joins us to talk about how to choose the right program for you.
As you scan through the possibilities of programs that you could enroll in, you can probably cut out several ones easily (based on things like physical location, availability of online courses, and cost). But you're still left with at least a handful of options.
As you look into each program, you likely do most of your research online – reading through the pages websites. You may reach out and contact someone at the university.
Being a Department Head, Anne shares that most applicants actually talk to the wrong people when applying, and they don't ask the right questions.
People usually contact someone in admissions, but the best person to talk to is the director of the program you're looking into – they will provide the best answers. Admissions can't get deep enough into giving you the answers to the questions you should be asking, like:
Can the program advance my career in ___?
How will the courses build my skills/knowledge?
What are the students in the program like?
Is the school going to be there for me after graduation?
You'll also hear:
What happens when you change your mind while you're already in school
How you can be proactive before you get in this situation
How you can know if a college/university is open to making a mid-college change (not all are)
So, if you if going back to school is the right choice for you, this episode is perfect for you.
Full Transcript
Scott Anthony Barlow
And one of the pieces of advice that you had shared in the last episode was about, how to really dig in? I asked you a question about how to really dig in to understand if a degree or a college or university is right for me, and I thought you shared some really great advice. And I'd like to go into that even more, because I think it can be really incredibly difficult to know from, say, like the website or from, you know, a couple other people's recommendations, I went to this university, and I think that it requires more and from what I understood about what you advise people to do, it seems like you do too. So that's where I'd love to kick off our conversation, which is, if I have already decided that college is absolutely right for me, it makes sense addressing the goals that I want to accomplish within my life and my career. How do we actually go about choosing the right University and program and everything else in between? So first of all, before we go back to those pieces of advice, how do you look at this from a bigger picture? Tell me some of your thoughts about choosing the right college, right University for you.
Anne Converse Willkomm 
I think I had mentioned before that I'm really often surprised at the number of prospective students who don't reach out to me before they submit or even after they submitted an application. Because while and I was one of those students, when I applied for undergrad, I set foot on campus, and I basically said to my mother, "okay, you could just leave me here, I know this is the right place." And it was the right place, and it was a great fit, but not everyone has that experience. And that often doesn't happen, especially if you're applying for graduate school. And certainly it's not going to happen at any level if you're applying to an online program. So that being said, I think it's really, really important for prospective students to think about what it is they want. And we'll talk about choosing a program in a second. So just looking at the actual college or university, think about what they're trying to do, who they are. And by that, I mean, what are… do they have any kind of limitations? Are they going to be gonna be school as a, you know, they're working full time and going to school, that's a limitation. In terms of, you know, you can't just go whenever. Do they want to be face to face? Are they afraid to learn online? Or do they want it online and don't want any face to face? Which case like a hybrid program would not work or a face to face program would not work? So those are the sort of the first pieces but then you, prospective students really have to take a deeper dive, because every program and again, we're not looking at the content of the program looking at more at how the program has run. Have different approaches, and it's really important for prospective students to ask questions about, for example, I think I had mentioned before, what are the typical students in this program, if you are going to be a full time working student in a program that is predominantly full time students, you're probably not gonna feel the same kind of fit that you would if you were in a program with students who are also working full time. So that means that whether it's a face to face discussion, or it's an online discussion, what you're gonna bring to the table is gonna be very different than what everyone else is gonna bring to the table. And while I love a diversity of voices in a classroom, it can be really, really hard if you're the one full time working student and you're bringing examples from the workplace which are incredibly valuable, but everyone else is bringing examples of what it was like at their fraternity or you know what's going on with their friends to the classroom or they're sort of guessing about examples.
Scott Anthony Barlow
Makes it hard to relate. Makes it hard to be is valuable too, I think.
Anne Converse Willkomm
Exactly. So you have to ask those kinds of questions, you have to ask questions about flexibility. Full time working students need programs that are gonna be flexible, because life is going to interrupt whether it's, you get sick, you've got a child who gets sick. Your boss walks in and says drop everything, we've got this project I needed on my desk Monday morning and oh, doesn't care that you have a paper due on Sunday night at midnight. So you've got to reach out to your professor and say, Can I get an extension? I just got this project handed to me. And you want a faculty member is gonna say, "absolutely. Will Wednesday work? Or do you need a full week?" You don't want a faculty member is going to say "Nope, sorry, fail it. I don't care."
Scott Anthony Barlow
That's such an interesting one to me. That actually has made me angry, for lack of a better phrase, in past education, because for all intents and purposes, when I have a professor that I'm working with, I am their customer. However, most of the universities that I have experienced not all, some do this really, really well. And I think your college does this really, really well. But many of them are like, too bad, you know, just deal with it. And don't treat it as a, you know, customer type relationship in many different ways, or the experience as a whole is not designed with that student's necessarily best interest in mind, at least for that type of experience. And I think that's a great example that you bring up.
Anne Converse Willkomm
As a faculty member, that I think faculty in general do not view students as consumers or as the consumer.
Scott Anthony Barlow
Yes.
Anne Converse Willkomm
But that doesn't mean I know lots of faculty members who are accommodating, but I do know faculty members who are not and there's difference between being accommodating and being, hopefully my students don't hear this.
Scott Anthony Barlow
I can't wait to hear this.
Anne Converse Willkomm
Oh, my students all the time, you know, I will not give you an extension if you don't ask, you know, like 24 hours before the papers do, but that's not entirely true. I have had students, typically I teach online, typically our work is do, I have a due at Sunday, you know, evenings at like, 11:59 at night, I have had students reach out at five o'clock and say, "look, I thought I was gonna get this done. I'm not. Can I get the extension?" And 99% of the time, I'm gonna give the students that extension, because I want them to do the best work that they can do. Now, I have colleagues who would say to me, Well, you're not teaching them good time management, maybe not. But at the same time, I'd rather they asked for the extension, then not and then I have to take points off. So if they're gonna communicate with me, I'm gonna be more willing to work with them.
Scott Anthony Barlow
Well, and I think that, that is that middle ground too. Because if you want to encourage great communication, which is really how the entire world works.
Anne Converse Willkomm
That works.
Scott Anthony Barlow
Shoot, I just went and spoke at a city council meeting. And not to get too into the weeds with the details, but my family's really into ice hockey, and we were asking them to close in the hockey rink, which is something that'll cost several million dollars that they weren't planning on. And now the first steps of that project are going forward. If I wouldn't have asked, there'd been no way that would have happened, whatsoever. So being able to practice that good communication, and reward people who are communicating well, or the ability to have dialogue to help them understand what would create better communication next time, I think is something that really is helping, which is the whole intent of the program too or at least their program, as I understand it, so well, I'll say I applaud that cause I love it. I love the thought concept behind that.
Anne Converse Willkomm
Ultimately, what I want for my students is I want them to learn. And if a student is repeatedly coming to me at five o'clock, I am going to have the conversation with them about time management. And it may be that the third time they asked for it, I have to say no. And I'd say this is the third time we've had an issue with this, like if you'd asked me, you know, on Friday that might have been different or so it's not that I'm not ever firm. There's also compassion and empathy for, you know, what the student might be going through in their life. And this comes back to that whole question that I think is really, really, really, really, really important for prospective students to ask, they need to ask these kinds of questions to program directors, not admissions people.
Scott Anthony Barlow
Admissions people are incentified.
Anne Converse Willkomm
So that's going to be an enrollment counselor. If you fill out some form typically, and someone gets back to you, that's an admissions person. You want to speak with the program director and ask them these questions because they are going to know nothing against admissions folks. They do an amazing job, but they are not into the weeds, they are not going to be able to answer questions for you about how a faculty member is going to act or respond, if you turn a paper in late, they're not going to be able to respond to, well, what's it going to be like I'm, you know, I'm a 60 year old man who has been out of school for 35, 40 years, and I'm a little nervous, and, you know, I'm not sure I really could do this and tell me a little bit more about the students in the program. You know, admissions folks aren't they may know some general demographics, but they're not going to be able to have that actual one on one conversation and be able to say, you know, I can remember I was at a different school but a woman call me up. And she said, I've been given a little bit of money because I'm being laid off. And they're giving me like $20,000 to go get a master's degree so that I can have a new career. So I don't want a new career, but I'm kind of being forced to have a new career. And I'm thinking of this program, but I'm really nervous because she said, I'm 64 years old. And she said they had to do this because I think she's 62. So I'm 62. But I'm not old enough to retire yet. So they had to do this. And she said, but I don't want to be in a classroom filled with 20 somethings. And I said to her "go, well, it's kind of coincidental because I just accepted someone in the program who's actually older than you." And she was like, "Really?" I said, "Yes" I said, Now, I'm not going to say that you're going to be in a room full of 50 plus, but you're not going to be the only person in the room who's over 50. And she was just blown away by that. But had she not asked that question. She might not even have applied. So ask the questions that are important to you that, think about it this way, what are you nervous about? What scares you the most? Those are the kinds of questions you need to ask of a potential program director. And if they're not willing to take the time to answer them. That should be a number one. They're not interested in me. This is not the right school for me, or this is not the right program for me.
Scott Anthony Barlow
Why do you think that people don't reach out to program directors like you? What do you think stops that from happening? Just curious.
Anne Converse Willkomm
It can be really hard to find the name of a program director on a universe like you know, our University website is huge. And I constantly get calls for programs that have nothing to do with me. So I can only assume that it's difficult sometimes to find the person you're looking for. But that's where an admissions person can be really helpful is to reach out to an admissions counselor and say, I really want to speak to the program director. And they can put you in contact with them. But I think people don't do it because they it's hard to find them and be, I think they don't know that they can, or that they should.
Scott Anthony Barlow
That's what I was wondering if it is just an exposure to this is a thing that can happen. And it would be really helpful to you if you did it. So here's one of my favorite questions to ask people who are experts in their area or have lots of experience in one way or another. What do you feel like are the questions that people should be asking of you or people in your situation? Or when they're considering, you know, choosing the right college that people don't ask, even when they do, even for the few people that call you up or take the time or come in and meet face to face, whatever it is, what are the questions that you think should be asked or would provide really great answers or, well, they just aren't getting asked the majority of the time other than the ones that we've chatted about.
Anne Converse Willkomm
I would say, I'm often amazed that prospective students don't ask questions about the curriculum. So tell me about the courses and how these courses can help me advance my career in X, tell me how these courses are gonna help build my skills, you know, based on my knowledge in this area, it seems like a kind of an obvious question, but it's one I rarely get. And I'm kind of surprised that I don't get that. I think another question that I'm sort of stoned that prospective students don't ask is, tell me about the students in your program? What kind of jobs do they currently have? Tell me about some of your alumni and where they're working? Do you maintain contact with your alumni? Things like that. Because those kinds of questions get to the deeper issue of what we're trying to do and are we successful in what we do and are we maintaining contact with those who are before. I have a motto, once a student, always a student. And so I have students from my previous college where I used to work who still reached out to me for letters of recommendation, and I love it. And it's, I would never turn them down. Because I really view one student, always a student, I have this mentality that I'm not only going to engage with you, while you're paying tuition. I'm going to engage with you afterwards, if a student reaches out to me who graduated three years ago and says, You know, I think I want to make a career shift. Can you help me? Absolutely, let's schedule a call come in, sit down in my office, whatever, you know, depending on where they're located, so it's really important to understand, is the school going to be there for you, once you stop paying tuition or are they only going to be there with their handouts saying, you know, donate money, and they are and that's not a bad thing. I mean, universities and colleges, fundraise. Everyone knows that they have annual funds and capital campaigns and they're going to ask for money. And I think that's great. I have a nonprofit background. And I think they should do that. But I think a prospective student or student should also know that it's not just to have their hand out to ask for money, but that the program, the faculty will also be there to help them 2, 3, 5 years down the road.
Scott Anthony Barlow
Here's one of the other questions that pops into my mind. And I'm curious about, I know a little bit about how you look at this. But I think this is something that is really prevalent, and it's not discussed very much. However, we hear it as a part of people's stories all the time, people that we help sure we've had it, I don't know how many people have told a very similar story on this podcast, where they've gone and they've entered a program that they thought was going to be great for them in one way or another. And then part of the way through it, they realize this isn't right for me, or they learn more about themselves and realize that I've changed my mind about the direction that I'm going. Shoot! Even when we had New York Times bestselling authored Dan Pink on the podcast, he was telling me about how he was… he went through, that's how he ended up graduating law school, he realized pretty close into it and you know, maybe a third of the way through it that it was not going to be right for him. And he never ended up practicing as a lawyer because he ended up finishing it just because he started for all intents and purposes, and then never spent time as a lawyer at all. So I'm curious, my question for you is, you know, what happens when you change your mind about the direction that you're heading? And you're already in school? And, what advice would you give to people either long before that ever happens, or, you know, when they're in that particular situation? Let's explore that.
Anne Converse Willkomm
Sure. So I've actually had a few students who have come to me for a different program here at Drexel, and it was not the right program for them. They're a little panicked. They're like, "Oh my gosh, I've taken five courses. I don't know what to do. I don't think is the right fit for me." And they found the MS in Professional Studies Program, which is a broader sort of interpersonal leadership business type program, as the best way to put it without giving a full, you know, description. And you know, first we sit and we talk about, well, what is it that you're trying to do and in most cases, this degree really worked for them because it was a broader degree. And so because it was inter university, I could take most of the credits that they already had, so they really didn't waste any money. So it does help if you find that you are on the wrong path. If you can stay within the school or university where you started that can be beneficial. Sometimes that's not an option. And there are limitations on so if someone reaches out to me from another university, I have limitations on how many transfer credits I can take because of Pennsylvania department education rules, regulations, that kind of thing. So people need to think about really how far they are, you know, if someone only has a few classes left, they should just finish it. But that being said, so at Drexel, and I think there are other schools that have this as well, we have something called a graduate minor certificate. It's a minor similar to what would be like an undergraduate minor. Most cases there are four courses. So it might make sense for someone. Let's just say for an example, that a student is in my MS in Professional Studies program. And they realized about three quarters of the way through that they really wanted more of a niche program and they wanted it in computer science or they wanted it in…
Scott Anthony Barlow
We've been talking a lot about HR today.
Anne Converse Willkomm
So they could add on or in some cases, you can, depending on where you are like we have four electives, they could use those four electives if they haven't done those electives yet, and get that graduate minor, which will help them tailor that degree a little bit more to where they decided they really need to be. So again, it's a little bit of a individual question. But the first absolute, first thing you wake up Scott, and you say, you have this nightmare, you wake up in a dead sweat, you're like, "Oh my gosh, I've made a huge mistake. I've spent $45,000 and I've got four classes to go. And this is not the right thing for me." After you've had your moment of panic, the first thing to do is to reach out to your advisor, and the program director and have a conversation about what your options are inter-University and hopefully your director would be also willing to have a conversation with you about, should you want it to look outside if there wasn't some an option, you know, sort of an in house option, but someone willing to explore all options. So again, like if we go back to that HR, I sort of thought, if you were in my MS in Professional Studies program, I could say to you, okay, it makes sense at this point, you should just get the Masters. You're so close, but maybe it really makes sense for you to get SHRM certified. Because our program is general enough, it will look great in to pursue a career in HR. But if you can get SHRM certified, even just the first level or two, that will make you much more marketable when you're applying for jobs. So it's got to be a conversation about not just how much money you've spent, how much money is left, but it's also got to be on your marketability for your career. You know, that's why it's such an individual discussion. But it all starts with actually reaching out and communicating that you're having a panic attack over it, and you need to look at what your options are, and pushing. Pushing to make sure that those options aren't just finish your degree and figure it out on your own. Because that's not a valid response.
Scott Anthony Barlow
I think that is such an interesting point. Because when we talk to so many people, many years later, you know, after they've gone through a graduate program or, you know, after they've gone through a initial program, and they had determined somewhere along the way, that this wasn't right for me, unfortunately, a big portion of that story is usually that they didn't necessarily go through and ask a lot of those questions in that way. So a big theme that I'm hearing from you is, you've got to take control of this and you when you have that panic moment, or when you maybe it's not even a panic moment maybe has come through some measure of proactive learning about yourself and just the normal experiences you're having going through that particular degree or program and you come to the conclusion that hey, this isn't not probably going to be right for me and you're halfway into it then you have to take control of that process. And you have to go in and ask questions and you have to be as you put it, willing to not accept well, you just have to do it as the only response.
Anne Converse Willkomm
Because ultimately you are your own advocate. You have to… no one's going to advocate for you unless you start to advocate for yourself. So you've got to start there. And if your program director is not being helpful, find someone who will be, you know, as I say, I've had students reach out to me because they want to transition into my program. Now, I'm always very careful, like I would have you spoken to any, I don't wanna poach anyone's students. That's not my goal. So I always say, you know, "have you spoken to your program director or your advisor or, you know, and I'll say, I can certainly tell you, you know, how we can help you but I also want you to go speak to that." But the other place to get advice and I think I mentioned this in our previous session to some informational interviews. If all of a sudden, you find yourself, as you said, your friend who was in law school and realizing you want nothing to do with law, you really are far more interested in education equity or in public health, then go speak to people in that field. And I often will tell students that, "alright, we've got a little time you know, you can take a term off or, you know, classes don't start for another six weeks, whatever." Go talk to people in that field. Have those informational interviews pick their brain about what they like about their job, what they didn't like about their job, what was their career trajectory like, have them look at your resume, what would they recommend you do? Some might say finish the degree you were pursuing others might say no, if you want to be in this, you got to start and have a degree in X, but at least you have facts to work with them.
Scott Anthony Barlow
In the earlier part of our conversation, we had talked about questions that people can ask or even really back up a few steps we had talked about, how does somebody tell if a program is right for me from the outside looking in? And it crosses my mind that since this is such a prevalent problem that I think people don't go do something about, I wish I had data on this would be something I think that'd be really hard to track. But I think so many people don't go and have these conversations that you've just mentioned, that it goes under the radar in many different ways. And since it is something that happens semi regularly, though, it seems like it'd be good to look at this from the proactive side. How could you tell in advance what you could do if you found yourself in this situation? Just knowing that it's, it's something that is at least semi-common?
Anne Converse Willkomm
Well, I think it's fairly clear in some industries, if you will, if you know, you want to go and practice Divorce Law, you've got to go to law school, no other route. You want to be a neurosurgeon, you have to go to med school. So in some instances, it's crystal clear, right? Oh, there's not always. And let's face it, there are multiple different pathways to the C-suite. Some people have gotten to the C-suite, they started in the mailroom, you don't find that as often nowadays, but it has, you know, in previous generations that they started there. Other folks get an MBA, other folks maybe an MS in Finance, or an MS in Economics, or in our case, an MS in Professional Studies. But there are also people who get to the C-suite who have a degree in History. So when students do end up in my office, asking, I'm not sure if this is the right program, or that is the right program, and I have no idea how to make up my mind. I'll ask them, I'll say, All right, let's work at this backwards. They look at me like what do you mean? And I'll say, I'm going to give you on a silver platter your dream job. Forget whether you have the skills or not, I'm going to give you your dream job. What is it? About half of them can say, Oh, I want to be a VP of whatever, I want to be the CEO, I want to I want to start my own company, whatever it may be. Some people say, well, I'm not really sure. Okay, so just close your eyes and try and picture yourself in 20 years. What does that look like? Are you in an office? Are you in like a corner office with windows? Is it a big building? Are you in a small building? Do you have lots of people around you? A few people? Like, start to think about, like, picture yourself in that space. And usually through a series of questions and discussions, usually not just a one off, I can help a student figure out where they're interested. I think I mentioned in the last episode about a student who came to me who's not sure where she wants to go, and we had some discussions. She does think higher ed might be it. But let's face it, there's lots of different pathways within higher ed. And so I recommended that she go to hireajobs.com and read through a bunch of different job postings. I said and pick the ones that sound interesting to you, forget whether you have the skills or not just the ones that are interesting to you. And I want you to come back with 12. And then we'll talk again. So it's a process and it's a process that a director can help you go through meaning like a program director, someone you know, a mentor can help you go through, but there is a self searching aspect. So once you've to, really get to your actual question, once you've sort of gone through that process, then it's easier to pick a program that is right for you. So if you know you love numbers, you want to be the person who's in charge the budget, then you know, an MS in finance really would be good option for you, if you aren't 100% sure what areas of a company you want to work in, but you know you want to, you want to eventually run that company one day, then like our MS in Professional Studies might be a really great option for you, an MBA could be a good option for you. So it's about understanding what it is that you want to do and you want to accomplish and where that career is going to take you that can help you then pinpoint which program is right for you. So you've gotta, and I tell students also, I had another student who's trying to decide if the project management program would be a good fit for him, and he has some experience but once more, but not sure if it's necessary. I said, print out. And this is something that I think any students should do if they're interested in the program, print out every course that's offered in that program, highlight all of the skills that you either don't know anything about or you don't have a strong comfort level with and if it's more than half, then you know you would need that degree. If it's about a third, then you probably don't need that degree, you could take one or two classes, or you could take continuing professional education type classes, not you know, non credit. So there are a couple of you know, things like that can really help a student figure out if a program is the right, you know, from a content perspective is the right program.
Scott Anthony Barlow
That's really interesting. I love the practical element of that. Because one of the things I heard you say earlier was I'm so surprised about how few people ask about what's actually in this program, what's the curriculum in this program? And how's it going to help me and I think that this is even another way to do that as well for yourself. So this is super cool. What else? What else would you advise people to do that are in that situation? And I heard you share a couple of situations where, you know, people had come to you with some kind of change or some kind of, I'm not sure If this is going to be right for me in the future, what about on the proactive side? What can people do before they ever get into a program that if they find that they are going to need a change down the road, how can they tell if the organization or the university or college is going to be open to that?
Anne Converse Willkomm
Well, again, I think that comes from having a conversation up front. So ask the question, so I'm looking at the plan of study. And I see that there are X number required courses, and there are X number of electives. But I see one of the required courses is, I'll just use my program, for example, is communicating in virtual teams. I do that all the time. Can I take a different course? If someone says no, that's going to tell you right there that there's very little flexibility. If a program director says, sure we can find another course for you to take, whether it's, you know, hear like a good win, or maybe there's the business school or maybe you wanna take, you know, in a different school, you know, we'll find something that will meet your needs. That is huge. You want to hear that, because as you've mentioned, we've talked about before, even while in a program, your needs can change. So if a student comes to me, who's in one of my programs that are much more business focused and leadership focused, but they come to me and say they really taking this chemistry class is going to be huge for their career. If they can justify it, and I can get them into that class. I'm going to help them take that. But that isn't going to be true in all programs, because not all programs are flexible. And I understand, I understand why some can't be but again, you think you might need a program that's going to be flexible, then it behooves you as a prospective student to ask those questions in advance so that you don't find yourself in a situation where all of a sudden you're seeking some flexibility and there is none available to you.
Scott Anthony Barlow
And I appreciate our conversation because I think you've done such a great job helping people understand how they can take control of not just their career, but the education that impacts their career and ultimately the all the areas of their life. And that leads into my final question for you, what other advice would you have for people to really grab ahold of the education process and get what they need out of it, customize it to them, we've talked extensively about a few ways that they can do that, but anything else that you would encourage people to do or think about or actions that they can take to really grab the reins on that.
Anne Converse Willkomm
I think the first thing is, an education should not simply be a means to an end. I mean, obviously it is to some extent, but it should be more than that. Students should enjoy their education. They should want to go to class, they should want to be engaging with their peers and with their faculty so that it isn't just a rote showing up, listen to a lecture, spit out a paper, go next week, sit at a lecture or listen to a lecture, spit out an assignment.
Scott Anthony Barlow
I'm bored already.
Anne Converse Willkomm
Right, exactly. So if it's going to be engaging, you're gonna get so much more out of it. Even if your circumstances or situation change throughout the process, you're gonna be so much more open to finding the right whether it's one class or it's a couple classes to round it out in a way that's gonna benefit you. So find a program that you get excited about. And you do that because if the director is excited, then you're gonna be excited. And I tend to find the MS in Professional Studies Program is a little bit unique because it is more generalized. But I get really excited about that, because I think of all the different possibilities that it can give students and the many different doors that they can open for them. And I also know because I teach in that program, what I give the students and I know how they're gonna be able to apply what they learn, and they're gonna get a benefit from it immediately. They aren't gonna wait to get the benefit until you know, a year after they graduate. So students can hear the excitement in my voice. So if you are talking with the program director who doesn't sound all that excited, find another program.
Scott Anthony Barlow
There's lots of them out there.
Anne Converse Willkomm
Right, there are. That is the truth and the programs that I run are not right for everybody. And I will tell them that, I will tell them if I think that a different program will be better for them. I'm not gonna say you absolutely can't apply to my program, I'm just gonna tell you if I think that one is gonna be better for you than another one, or if mine is not really what I think that they're looking for, because you want a program director who's gonna listen to you. It isn't just about the student communicating, it's about the program director also communicating with the students. And that, by that, that means listening, as well. So I think those are really key elements, because without those, nothing else matters.
Scott Anthony Barlow
And this has been a very fun conversation for me and is absolutely, this is a topic that I have a lot of strong feelings about. I think I've shared those with you on I guess several different conversations now. And I so appreciate how you look at the educational process, the educational experience, and how… I can hear it in your voice and how you speak about this, just how much you care for the students that end up going through your program, and so, this for all those reasons and quite a few more, I appreciate you taking the time and making the time and come and sharing your experiences with us. Is there any place that you would advise people to go if they have more interest in either your university in college or anyplace else that you would guide them?
Anne Converse Willkomm
Sure. Well, first of all, Scott, this is just this has been my pleasure too. I've really enjoyed the conversation with you as well. For anyone who's interested in learning more, I run three graduate programs, the MS in Professional Studies, the MS in Nonprofit Management and the MS in Project Management. You can find out more about about us at drexel.edu/Goodwin and you can read more about the various graduate programs, you can get to see my picture. When you click on academics and graduate school, or graduate programs, one of the other things that I do, I write a weekly blog and I'm actually behind this week. We'll just leave it at that. But I write a weekly blog on a variety of topics that are really valuable to those in the workplace such as professional development and career tips and innovation and communication and leadership. I'm happy to you know, anyone wants to reach out, happy to help in any way that I can. You can again find my email on the website or it's acw334@drexel.edu
Want to know the very best way We Can help you?
Fill out our "Help Questions" and talk to our expert coaching team about how exactly how we can support you!
Let's do this already!