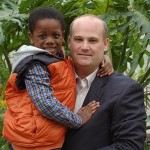 Tom Dixon is a Career Coach at MondayisGood.com.  Tom leads a Demand Planning Team for a Fortune 500 Team as well as writing his career blog and voluteering as part of a Career Resource Network.  Tom's Career and Job Search experience and techniques are all developed from "in the trenches" experiences.  They are tried and true through Tom's own experiences.
 [Tweet ""Sit down and figure out, what do you want your future to look like?" @MondayisGood"]
Books & Resources Tom Dixon Mentions in the Interview
Bonus Book: After the interview ended, Tom mentioned another book…don't miss out on this book that Tom loves:
Check out Tom Dixon Endeavors
Monday is Good website
Twelve Steps to a Killer Resume
Connect with Tom Dixon
 Twitter: @MondayisGood
 Question: What are you doing to be intentional in your career?
Please share this episode with your social circles and leave us a review on iTunes!!