HAPPEN: Find The Career That Fits You
Coaching support for professionals who want meaningful, fulfilling work (without having to give up a great salary to get it)
It's everything you need for your career change – in one place!
A career change to meaningful work that fits you is a journey (actually it's more like a marathon!)
We've measured that (on average) it takes between 6-10 months for people who have professional help to make their change. It takes far longer (or never) for people who don't.

This means that the sooner you start, the sooner you get to make your change!
Why Only 4% Of The World Has A "Great Job"
The problem with finding work that fits you is that it's difficult (like "building a 3,000 piece puzzle while blindfolded" difficult)
Why? Because there are SO many parts and steps. Also because usually people don't get to meaningful work simply by having their resume reworked and then applying on LinkedIn.
Here's just a few examples of some of the questions we get asked every single day (many times a day):
How do you narrow down your focus to roles or organizations that fit your strengths, talents, and interests?
How do you get over guilt/fear about making a REAL change (not just a job change)?
I know I need a change but am unsure if I should continue in my existing line of work or pivot to something else. What do I need to do to make the right decision for me?
How do I figure out my transferable skills and use them to get interviews?
I'm scared to find a new role because maybe it's actually the role I don't like and not my particular job. How do I know? How can I figure out if this is what I want to spend my career doing?
What most people don't realize
The answer to every question we get asked daily is different for everyone. If that wasn't enough of a problem every single stage of career change is riddled with it's own parts and pieces and at any one of them you can get stuck.
Which puts us right back to building a 3000 piece puzzle while blindfolded.
Ugh… No wonder finding the right career feels impossible!
This is why so many of us either change jobs and then realize that it didn't solve the problem OR stay stuck and tell ourselves that it's not that bad.
You go back and forth between "Ugh… I'm so over this. I need to do something" then a few days later you're like "I think I can make this work"
Here's the reality: Until you do something about it, it will continue to feel like a roller coaster, we've been collecting research on that roller coaster for years, but I've personally been through it several times over. Everything seems great for a while and then you realize you have to do something about it, then you put it off just long enough to where it seems tolerable, then the cycle repeats itself.
So what do you do instead?
The Key to Reaching Meaningful Work
The key is that you have to set yourself up to have the resources and expertise for every single mini-step from now until you negotiate and accept your offer for your next role, doing work that actually fits!
But unless you're getting professional career coaching from elite career change coaches (which is something we've offered since 2013), there's really not ever been a way to get that level of support. Especially in a way that leverages proven methods for you to work with.
What if . . . there was a way where every single time you get stuck, you could just pick up your iPhone and be seconds away from getting help from an entire team of people that are experts in career change?
What if . . . you could be connected to an entire group of other people going through the exact same change?
How about if you were only seconds away from everything you need to change your career (and your life)?
Wouldn't that make finding a career that fits you much easier (and much more possible)?
Introducing HAPPEN:
A Community for Career Changers
It's the first and only community in the world that brings together experts on career change, coaches, live events and digital learning and growth – All in one app.
It's all the help you need to finally make your career change. You can finally reach career happiness and do meaningful work that fits (and get paid freakin' well for it!)
Everything You Need To Find And Do Meaningful Work In One Place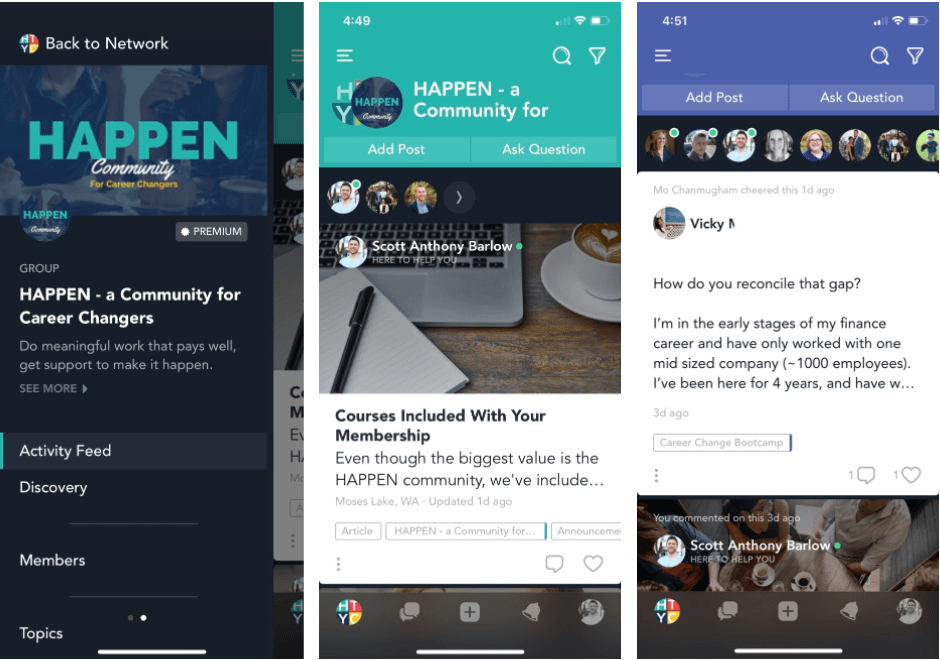 Have a question about whether to look at small or large organizations? We've got you covered.
Need to get feedback on an email you're going to send to a hiring manager? You're just a couple clicks away!
Wondering how to begin to narrow down your strengths and ideas for connecting them to roles in the real world? You'll have access to a course showing you how.
In fact, your membership to the HAPPEN community includes access to our ever-growing course library including:
Figure Out What Fits – Our original 4 week course to help you narrow down your ideal career.
Discovering Your Signature Strengths – A presentation series created to help you understand how to leverage your strengths and talents in your career.
Side Biz MBA – A primer to creating and running a profitable service or online business (on the side of your job).
Aspire & Thrive – Identify and achieve your highest priority goals to completely change your life in the process.
And more- Our Happen community where you can interact with our coaches and other career changers just like you.
"It turned out to be the best fit possible; they had all the tools and all the resources. It helped me to approach the job search in a completely different way. It allowed me to put myself out there in a vulnerable way (even in the interviews) and it allowed me to get exactly what I wanted." Margaret Fredrickson – HTYC Student
"It's hard to find something that fits, that's why so many people change careers. When I finally understood my strengths and how I could apply them it all made sense. It just made it easier to see what types of jobs and roles would fit me. In my new career I get to do the marketing that I love with a company I'm excited about." Kirby Verceles – HTYC Student
As Your Career Evolves You'll Have Everything You Need Right Along With It!
Here's what you'll get along with your membership!
Access to HTYC course library
Support from the entire HTYC team and a community of career changers
Access to the "Roadmap to Meaningful Work" Framework and checklist
All this and more for as long as you're a member!
Join HAPPEN Now. Get access to everything at our introductory membership rates.
Most people tell us that career happiness is worth many many thousands of dollars. Especially when we spend so much time at work. We want it to be meaningful since we only have one life! You can join us for far less than that.
Just the courses alone listed above cost over $1,041 (not even fudging a little bit, that's what we sell them for) but you get them included with your membership! – plus we're adding to them every year!
Plus the access to career experts and a community of other career changers can literally be the difference between work you love and work that is well…missing something.
Why would you take any chances on your career!
Current Offers
HAPPEN Membership
2 Professional 1-1 Career Coaching Sessions included ($797 value)
HTYC Career Course Library (so you're always learning no matter what stage your career is in)
Career Change Bootcamp – Learn what career fits you and make the change ($1997 value)
Discovering Your Signature Strengths – Video Series ($47 value)
Figure Out What Fits – Identify your Ideal Career ($297 value)
Aspire & Thrive – Set your goals for the New Year and make them HAPPEN! ($297 value)
Side Biz MBA – Learn the foundations of running a side business ($597 value)
Connect with Career Experts and other Career Changers (so that you never stay stuck)
best value
Career Change Bootcamp + HAPPEN
3 Professional 1-1 Career Coaching Sessions included ($1197 value)
HTYC Career Course Library (so you're always learning no matter what stage your career is in)
Career Change Bootcamp – Learn what career fits you and make the change ($1997 value)
Discovering Your Signature Strengths – Video Series ($47 value)
Figure Out What Fits – Identify your Ideal Career ($297 value)
Aspire & Thrive – Set your goals for the New Year and make them HAPPEN! ($297 value)
Side Biz MBA – Learn the foundations of running a side business ($597 value)
Connect with Career Experts and other Career Changers (so that you never stay stuck)
Career Change Bootcamp PLUS
6 Professional 1-1 Career Coaching Sessions included ($2200 value)
HTYC Career Course Library (so you're always learning no matter what stage your career is in)
Career Change Bootcamp – Learn what career fits you and make the change ($1997 value)
Discovering Your Signature Strengths – Video Series ($47 value)
Figure Out What Fits – Identify your Ideal Career ($297 value)
Aspire & Thrive – Set your goals for the New Year and make them HAPPEN! ($297 value)
Side Biz MBA – Learn the foundations of running a side business ($597 value)
Connect with Career Experts and other Career Changers (so that you never stay stuck)
"I didn't know what I wanted to do. I Had a great Job but I was So Over it. I needed my own personal consultant to come in and help me make the Change. HTYC gave me the Framework and support I needed to Decide what I wanted and take the Steps. When I got my job offer, I was really surprised that you got on the phone with me to help me negotiate my Salary" Maggie – HTYC Student