The Ultimate Guide to Using Your Strengths to Get Hired
Part VI: Resources & Assessment Tests
Assessments of any kind can help speed up your understanding of your strengths and your self-awareness, if used properly. The problem is without any action and application you won't be able to get anything useful out of it.
Remember learning is comfortable (and enjoyable) for most people. Taking the steps you need to so you can apply that learning, not so much!
Alright now that, that is out of the way, let's talk about some of the assessments we use.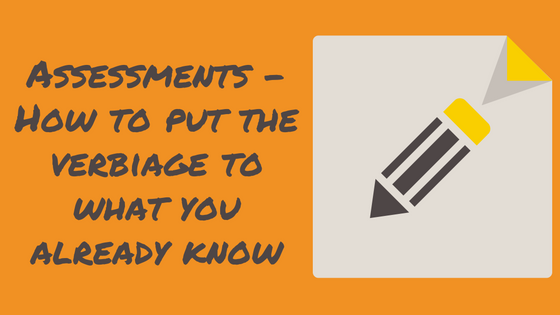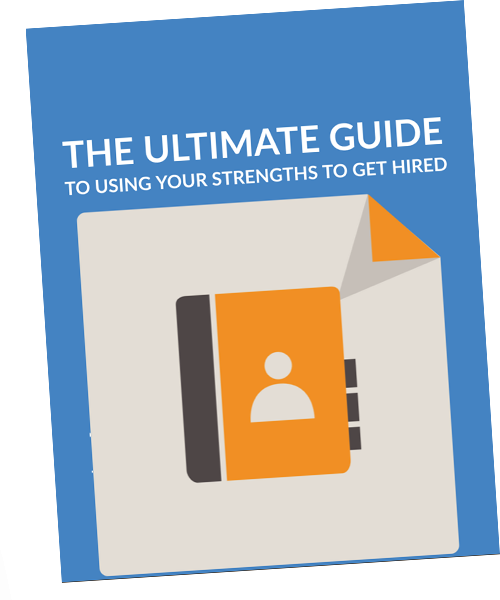 DON'T HAVE TIME TO READ THE WHOLE GUIDE RIGHT NOW?
Download the whole guide as a PDF
Assessments Disclaimer: Action beats assessment every time!
Strengths Finder 2.0 – This is a book paired with an assessment that very accurately shares your top 5 strengths categories. It uses the mantra that you succeed because of your strengths NOT because of making weak areas better. I purchase a copy of this book for all my coaching clients if they haven't taken this recently! Note*** if you decide to purchase Strengths Finder 2.0 to make sure you purchase a new copy because the key code that allows you to take the online assessment can only be used once.
DiSC Profile – DiSC is a personal assessment tool used to improve work productivity, teamwork and communication. DiSC is non-judgmental and helps people discuss their behavioral differences. If you participate in a DiSC program, you'll be asked to complete a series of questions that produce a detailed report about your personality and behavior. There are A LOT of places that sell DiSC Profiles, this is the one we recommend. Many times this is used in teams, but we choose to use it with individuals, because it helps you understand why you behave and communicate the way you do.
A really interesting sub component of the DiSC is that it will typically give you two sets of results; One that is really what you want everyone else to think on a day-to-day basis and one that is what you revert to in stressful situations (your normal state). This can be exactly the same or vastly different for you. In coaching, this helps me quickly understand why people have the barriers or challenges that they do.
These are the two assessments that we work with all the time but there are many others that I have taken that can add value when trying to identify your strengths and expand your self awareness.
Some others in no particular order:
The Passion Test – identifies the passions you should prominently work with. We often work with this one too!
MBTI –  Myers Briggs Type Indicator
All of these assessments can help provide insight but without application and reflection they are simply entertainment. And we all know entertainment is great (and a must) but it doesn't typically help you get where you want to go.
Resources from Happen to Your Career
One-on-One Coaching — Work with one of our highly skilled and trained career coaches to get one-on-one support in defining your signature strengths and mapping out your career change strategy.
Learn more about one on one coaching here
Figure It Out — If you wanted a guided process to determine your "signature strengths," please check out the free course I've put together specifically for this purpose. I'll walk you through exactly how to define your core strengths. It's an essential first step in your job search so you can make sure you're interviewing ONLY for positions in which you can apply your unique abilities and skills and really shine. It's very similar to this guide, but divided into eight bite-sized chunks for easy digestion. 🙂
Career Change Bootcamp — The premier online class intended to help you identify your ideal career and make the career change while getting paid what you're worth. PERIOD. This eight-week, guided, step-by-step system has helped hundreds of people move from pain to passion and create fulfilling work lives.
Learn more about Career Change Bootcamp here.
Side Biz MBA — Wondering if a traditional career is the wrong path for you, and instead you'd like to consider "starting your own thing?" Side Biz MBA is our step-by-step process that you can use to create a business and grow it to profit on the side of the work you do currently… Even if you have never run your own business before… Even if you feel like you don't have the time or money to start a business… Even if you're not sure where to start or don't even have a business idea!
Learn more about Side Biz MBA here.
HTYC Podcast — A free web-based audio show where we bring people that have successfully moved to working with passion and purpose into your life to help provide both inspiration and direction for you to transition to work you love using your strengths and talents. 150 episodes — and counting!
Happen to Your Career updates — Stay on top of the latest and greatest resources for smart, savvy professionals like you. You'll get periodic updates regarding what's happening in the HTYC world, from the latest blog posts and podcast episodes, to new "Ultimate Guides" like this one.
"When I took the Strengths Finder assessment,
one of the things that was incredible for me was just realizing, 'Oh! Those are strengths! I didn't realize that being able to relate to people is a strength. I just thought that was a thing.' And I think that being able to give verbiage to that helps for you to be able to own it and then be able to take that and look for it in future roles. And be able to speak powerfully to it in an interview."
– Lisa Lewis, HTYC Career Coach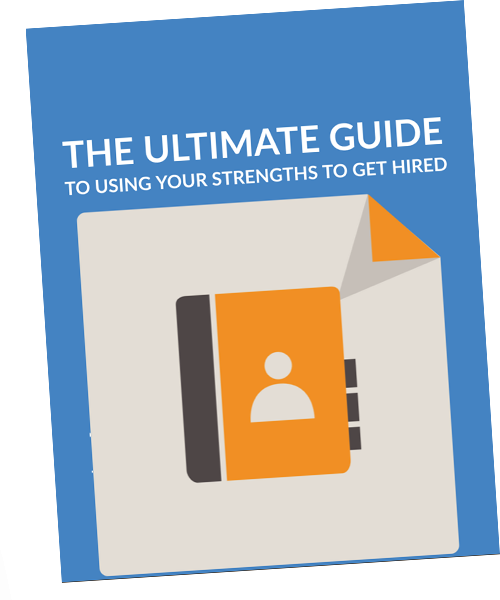 DON'T HAVE TIME TO READ THE WHOLE GUIDE NOW?
Download a PDF of the Guide to read later!