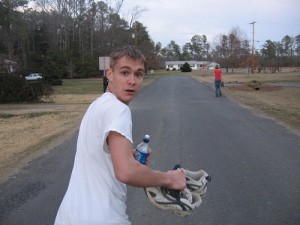 In this episode of HTYC Mark and Scott are back on the mics discussing a topic that can impact nearly everyone! Many people will make choices in their career based on what they don't want and NOT what they actually do want. This simple act of running from something can be often be the difference in an "average" career and one that matters to you! You have to be intentional.
Join Mark and Scott as they discuss how people end up here but also more importantly, what to actually do about it!
[Tweet "Employers want to hire someone who knows where they are going."]
When you're in a job that makes you miserable, every job looks good, even if it's not.
Running from something leads to jumping from one horrible job to the next.
The way you're told to do a job search encourages you to "run from something" rather than running to something.
Chris LoCurto, in his HTYC interview says you'll sometimes have to do things you don't love to get to work that you love…We agree, that's not what we mean by this.  We're talking about having a plan to get to where you want to be…not just running from your current job.
Scott talks about the HTYC post: Don't End Up Anywhere.
He says that HTYC is in the "End-Up Prevention Industry"…
Some people spend their entire lives drifting from job to job.
Most people drift through their careers and find themselves asking "How did I get here?"
Mark mentions Alice in Wonderland – Which way should I go?

We don't want you to just "end up" somewhere…
Who would you rather hire? 
1. I just saw this job posting…
2. I've always wanted to work with a company doing [fill in the black]!!
Be intentional!  
The employer you're talking to can tell when you're being intentional about where you're going.
Free Avice from Mark:  Don't complain about your last job or boss…even if they're making you kill small puppies!
[Tweet ""Don't complain about your last job..even if you have to kill small puppies""]
If you're in this situation, what do you do about it? 
Realize it's hard to see things objectively (opportunities will look better than they probobaly are!)
If you are focused only on one aspect of the new job — that's a huge red flag that you're running from something!
Look at all aspects of your new job.
Utilize the profile process we talk about in the last episode to look at all aspects.
financial
environment
strengths
schedule
Employers want to hire someone who knows where they're going. 
Scott mentions The Happiness Avoidance Problem.
Just because something makes you unhappy, doesn't narrow down what makes you happy.
Mark shares an analogy to how his daughter chooses breakfast.
"It's a long, stressful, miserable way to go through life–trying to find out what you want by defining what you don't want."
The key is taking the time to  find out what you want!
Ask  yourself what you want…
Question: How did you end up where you're at? 
Photo Courtesy of ShutterMoth, Some Rights Reserved