Whether you're looking to make a lateral job transition to a new industry or trying to achieve a major career overhaul, the process from the vision of your dream career to actually getting your foot in the door for an interview never seems like a straight shot.
Let's start by breaking down the process to make it easier on yourself.
CHANGE YOUR MINDSET ABOUT INTERVIEWS – BOTH INFORMATIONAL AND JOB CANDIDATE, REAL-DEAL TYPE STUFF
Let's distinguish what we refer to as an informational interview.
An informational interview is a conversation.
It's a casual conversation with someone at an organization that you want to work for or it could be with someone who is in the position you're looking to transition to.
The point of the informational interview is to find out more about this particular job that you're interested in pursuing. Find out as much information as possible about the position, the person in the position, and their story and experience in that position (or their career in general).
Get some expert tips about the career you're looking to transition to.
FIND THE EASY "ASK"
Do you have a friend that has gone through a career change? Maybe they know someone who knows someone that has successfully transitioned jobs or works in an industry you want to get into?
All it takes is asking your friend if they can connect you.
Here is a sample script in case you need one:
"Hey. I've been really excited about _____ of the ______ industry, I know that your friend works for _______. I'm hoping to ask them just a couple of questions about their experience about getting into the industry…would you be willing to introduce us?"
Then all you have to do it send off a quick email with 3 questions to start the conversation.
MAKE IS EASY FOR THEM TO SAY, "YES."
When you score an interview, go into the meeting with the mindset that you're not just a job seeker. Approach the meeting without the expectation of coming out of it with a job offer.
It helps to understand that the people meeting with you are making an extra effort to talk to you. So, you want to make it count and make it worth it to them. You want to make the most of the mutual effort by not only doing your research, but having your questions ready to go.
Keeping the tone casual during an informational interview will allow the conversation to flow and provide for a better exchange. It will also allow you the ability to add value to your name and what you can offer by identifying some of the issues the organization struggles with and provide different solutions and perspectives to add to the organization's existing toolbox.
HOW DO YOU ADD VALUE?
Even if you go into the interview without expectations of a job, people have to believe that you can do the job. You want to demonstrate in a different capacity and interact with them your ability to do the job (…whatever that may be).
One thing that separates people is enthusiasm and that self-starter drive. Organizations are always looking for people that want to find solutions and fill the knowledge gap.
During your conversation, take note and apply your experiences to become part of the solution to their issues and go more in-depth to set yourself up on how you can add value to their organization, meet more people, and start more conversations.
DON'T FORGET TO FOLLOW-UP
Another way to give value is to send a follow-up. It doesn't have to be business-related either.
You just want the other person to know that your conversation mattered and that it was meaningful to you. Show that the conversation had an impact on you and not in a way that you are expecting something in return.
It's not always about business. We're all people and taking the time to find out more about someone shows that you're looking to expand your knowledge and that you're serious about learning more.
Making sure that I was doing my best to feel like I had given something that really pushed me to think about, 'Well if I can't give something from a career or a job-focused perspective there are other things you can do for folks – even if it's recommending a good YouTube video.' It shows that you care in a way that's natural and fun.

Michael Bigelow
"SOMETIMES YOU CAN STRETCH YOURSELF, AND SOMETIMES YOU NEED A TEAM OF PEOPLE TO KIND OF STRETCH YOU BEYOND YOUR BEST."
If you're ready for the next steps to take your career from good to great and need help gaining that outside perspective on your career and life to draw out the best and brightest spots of your unique combination of strengths, skills, and experience, we've got expert career coaches available to help create a road map to get you to your picture-perfect career situation.
Head on over to www.happentoyourcareer.com/coaching to work with one of our coaches and figure out your career blind spots and identify your BIG value-adds to guide you through your career change.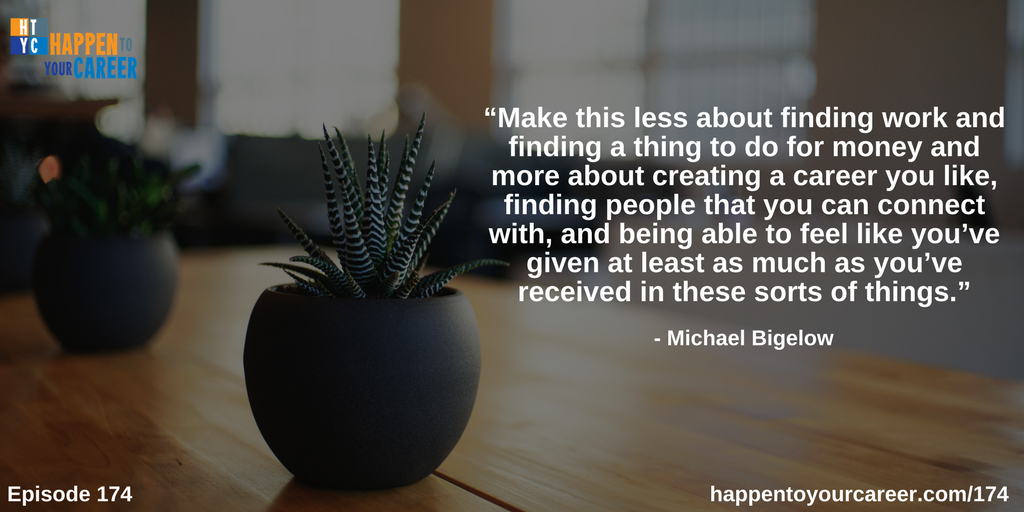 EPISODE LINKS AND RESOURCES
Guest: MICHAEL BIGELOW
Relevant Links
http://www.mikebigelow.net/htyc/
Relevant Resources
HTYC 174 Add Value, Grow Your Career with Michael Bigelow
Scott Barlow: Welcome back to Happen to Your Career. I am particularly excited today. I'm always excited to do this, but even more so today because I have a special guest. Somebody who has not only been there and done that and walked the walk, but somebody who has allowed us to play a part in his journey. I want to talk about all that and more and the fantastic ways he has made his career transition and got not just one but multiple job offers that he was excited about. Welcome to the podcast and Happen to Your Career Michael Bigelow. How are you?
Michael Bigelow: Very well. How are you?
Scott Barlow: I'm excited and thrilled to pieces that we could put this together. We've been coordinating this for a while now. Glad to get you here and now.
Michael Bigelow: This is super exciting to me too Scott. I really appreciate the work your team, particularly Lisa, has put into helping me make this career transition. For those listening my name is Michael Bigelow and I am an engineer that was living in Portland, Oregon and moved to Seattle, Washington to support my wife's career change. I moved back home because my folks are still up here. What was wonderful about working with the Happen to Your Career team was that I was able to learn so much about how to go from good to great and the career transition.
Scott Barlow: That is exactly what we get to talk about today. We had the opportunity to help you out and I think you did really fantastic things. I think other people have a lot to benefit from your experiences, especially time and place, because this just happened, correct?
Michael Bigelow: Right. As we are speaking I'm sitting in my new apartment, having unpacked most of it in a gap week between leaving my old job and starting my new job. Right here and now. It's pretty cool
Scott Barlow: Having unpacked most of it, which in itself is a success.
Michael Bigelow: No kidding.
Scott Barlow: First of all, let's go way back to discuss what led up to this change in the first place. Long before we met each other and you went into this. What did your career path start as?
Michael Bigelow: One of the things that is part of my origin story is that I've been fortunate enough to work in several different areas over my career so far. One of the unique things that has come out of that is that the position I'm often in of finding work in another city. I'm always doing remote job searches. This presents a lot of different things in terms of challenges and how to approach it. When I first started my career, right out of college, it was emailing alums, checking with them and having conversations. It was good but amateur. A couple times I got picked up by a head hunter. What really brought me around to the idea of a systematic approach to making a career change and the value of coaching was when I moved to San Diego in the later part of 2008. This was a period where there were very few jobs in engineering. A lot of the folks I talked to using my normal channels were saying we'd love to have someone like you join the team but unfortunately we just let three to four people just like you go because there isn't enough work. I realized early on in that career transition that if I was going to be able to find a job that was rewarding and in an area I liked, even to just pay rent, I would need help because I wasn't getting the results I needed. I hired a coach back then. It was one of the best investments I've ever made because I was pushed to become the best version of myself and present myself in ways I hadn't thought of. It was a four month career campaign. It was day in and day out, activities, trying to meet new people and finding ways to add value. At the end I felt like I had been through the crucible and I could figure it out no matter what came my way. It proved true through the next couple transitions, due to moves and such.
Scott Barlow: Let me ask quickly, to fill in some gaps. I'm curious, when you went to San Diego what took you there in the first place and what were you doing just before it?
Michael Bigelow: Great question. I was moving to San Diego to support my wife. We were dating at the time. She had a once in a lifetime opportunity for her educational career to get into astronomy. It is a competitive scientific field and she is very passionate about it. It lights her up like nothing else in the world so I had the great fortune to have enough savings and position, and a little experience in the job market, to join her in that move. I had been an engineer for two years and was working as a summer camp counselor taking a bit of a break when the recession got into full swing. That move to San Diego was one where I had some money in the bank and didn't know anybody. I had to start from ground zero in the time when folks like me where in great supply and low demand.
I found a position with a wonderful organization called the Center for Sustainable Energy. They were administering rebates for new solar and solar water heating technologies. My background in engineering leant itself to it. I accepted the position and started in 2009. That was one of the best things that happened to my career. The coaching helped me present myself to be appealing to the recruiters and HR folks screening the applicants. My coach supported me in the first six months on the job. It made myself indispensable to the group I was working on. While I was there I got promoted twice because I set myself up for success at the beginning. It took a lot of work and there was a lot of soul searching. Looking back it was good that I hired Steve as my job coach.
I was fortunate enough to run into these folks at the Center for Sustainable Energy. They still do great work and I love running into those people from time to time. There are so many cool things they are doing. Being able to be a part of that helped launch the green engineering aspects of my career.
Scott Barlow: I am curious, what happened next? First, that is super cool. I know a bit more about your progression and story but those green engineering aspects that you mentioned are going to come up again. What happened from there? What prompted you to change again? I know there was another change.
Michael Bigelow: A lot of that change came from the advancement of my wife's career to get a PhD. We ended up moving back to the Pacific Northwest. We wanted to be in Seattle or Portland. We moved to Portland for my position which was wonderfully flexible with my wife's work. She did a great job negotiating her position. We had two years in Portland but we knew we would have to eventually move to Seattle for her position. That is kind of what prompted me to start thinking about how I knew this from the mechanics perspective. I know how to get introduced to people and talk to folks. I've done this remote job search thing a few times. What was going to make it different for me though is that it's not just an opportunity to change location but to change position. It could be not just a lateral move from one city to another but it could be a promotion. I was moving my career and experience to an area where I went from leading projects to potentially leading teams of technical people. That has been where I wanted to be for a long time because it was one of the most rewarding things I've gotten to do.
Back in college I got to work with a small group of people and got to be team leader for a yearlong project on fuel cells. I absolutely loved that and knew that I wanted my career path to grow along this way. I knew to get to a position in leadership you need to know things leading up to that. I realized that when I made this transition to Seattle it could be a possibility. I thought it was but how could I make it happen. That was one of the reasons I said remembered coaching did a lot for me in 2008 and I knew it was time to try it again to go from good to great and take some of the experiences I've had and really draw out the best and brightest parts so if there are opportunities to step into a leadership based role I would not only present myself well enough but also be able to identify where the big value adds are in those types of roles. I could do it on my own. I know the tasks are easier with an expert who has a bit of distance between the problems you are discussing and your emotional state.
Scott Barlow: It's hard to see your own blind spots.
Michael Bigelow: Exactly. I thought it would be a real asset to bring along a coach for this part of my career transition.
Scott Barlow: I think you did a fantastic job, as I said earlier, but I am curious about your first couple of transitions, even going back before that, and mastering the remote job search. What do you believe are the major differences between the remote and local job search? What makes it more difficult?
Michael Bigelow: The local job search has the advantage of being able to meet someone face to face for coffee, without a lot of disruption to your schedule. When you are using a lot of the techniques you talk about, and other career experts talk about, it's fundamental to do a good informational interview or talk to someone about how they got where they are so you can follow a similar path or add similar value. Being able to be in the same place is huge.
When you don't have that at a moment's notice and you have to arrange it around travel or vacation it gets more challenging. I really pushed myself to understand that a lot of the folks I had been talking to were making an extra effort to talk to me because I wasn't around for a face to face conversation. They were taking time out of their day to talk to me on the phone or skype. I wanted to make sure that those fifteen minutes to a half hour were worth it to them. It drove me to really over prepare my questions, how I thought about making time for their responses, and even the way I took notes. I had a whole process I'd go through every time and I think that really paid off because there were a great number of conversations that were absolutely fantastic.
I learned a lot about the green industry not just from the Seattle area but from a Meta perspective. Those were wonderful insights to share with other professionals. In the end I felt that it wasn't just about an exchange. I wasn't just a job seeker hoping to make a transition. I could give something to them that was valuable. I didn't want to feel like a mercenary about it. I wanted this transition to Seattle to be a better exchange. I wanted folks to feel like I took them serious and followed up on their advice. I had my own insights or ways I could add value even if we didn't work together. More often than not I felt like I was able to provide that. I could say this is what I found out about this Meta trend and I feel like these tools will fit you better and I'd be willing to give a presentation. Sometimes I just offered to buy a beer if they were in my area. It was that kind of mentality and mindset that I felt allowed me to make the most of the distance and turn the obstacle into an asset where the amount of effort allowed folks to feel like it was worth their time. It was certainly something I wanted and challenged me and stretched me.
Scott Barlow: That is both awesome and interesting. Awesome because I know what that takes and it's not easy. Interesting because we get the "how do you do that" question so frequently. And the question "what does that look like." There is a lot of confusion about this whole value thing. What the heck is value? We've joked around with it on the podcast. You start to hear that all the time. How do I add value? I think you've mentioned a couple tangible ways but can you give an example? It's fresh for you so give us an example of one of those times you were able to go in and add value.
Michael Bigelow: One of the things I do as part of the engineering package in my area is introducing relations for buildings. You take a computer program and you build a virtual building, put virtual people in it, add lights, and run air conditioning, and heat and in the end of a virtual year in computer time you figure out how much that building is likely to use. This is a difficult thing to do well in the building industry but it's critical to be done well for green buildings and high performance stuff. It's pushing the industry to be more effective, efficient, and cost conscious. There are firms that do mechanical engineering very well. They come up with amazing designs that provide comfort. It's one of the things when you talk about technology being beautiful and invisible. It's both with what these folks do. It is absolutely fantastic to see and understand what they go for when they put these things together. You can do that beautiful invisible work and provide that end result of comfort consistently throughout a building without problems and a lot of energy being used, without doing the energy modeling stuff I specialize in.
I spoke with a firm that thought they might get into it but said it had been difficult the last couple times they tried. What would you do if you came in to help us out? I said regardless of what I would do, here are the tools and what we need to do for you as a firm because it can't be an individual solution. If I come in and give you a solution you have to run everything through me which is good for a while but if I get hit by a bus and you have deadlines it won't work. We have to take a more systematic approach, here's how I would do that from a larger perspective. You can do this without hiring me. Take this tool with this processing to get these results and once you have that you can add x, y, z types of detailed solutions. I'm being vague on purpose because there is a lot of detail.
Scott Barlow: Save the four hours of explanation to understand the explanation.
Michael Bigelow: Exactly. In that process we were able to collaborate on what a modeling system or solution might look like. I could use my experience to benefit somebody even though I wasn't necessarily going to be hired by them. It allowed them to see it was cool stuff and say they could maybe bring me in for a presentation. It made the conversation more two way which was awesome.
Other times I was able to offer findings from my research. Have you thought about talking about what we do as mechanical engineers in a different way? You can say you can connect this energy thing not only to this green building metric but that those two things combine for operational costs if you can prove it with these details, patterns, and back-up. You might be able to talk to the project owner about where we are moving in a realm where we are moving to higher profitability and lower cost to operate end product.
Some of your core statistics, using their own jargon, would be better in these ways. I could talk to folks about not just the technical work but also how we as engineers talk about it to non-engineers and make sure folks are giving us credit they deserve for the amazing work they do or how to take what we are doing and let people know why it is important to their portion of the building industry. Even if I wasn't in the running for anything or they weren't hiring it made a great conversation. We developed a mutual and professional respect for our particular disciplines. That was my way - my research into not just how to do what we do for the actual task but the greater picture those pieces move in. I was able to help other firms think that it is cool stuff that we can talk about it in different ways to add different perspectives and tools to their toolboxes which added value.
Scott Barlow: I'm going to interrupt for a second. This is really interesting. I want to recap what I heard. I heard you say you were spending your own time, out of your own volition, having conversations, probably on your vacation, or when you could be doing other stuff, and you were helping them without the expectation necessarily that they are going to hire you.
Michael Bigelow: Yeah, that's the truest way I can really feel like I'm getting to somebody. To have as little expectation of reciprocity as possible. It made it a lot easier to get away from how am I going to be efficient about this and things that can put you in a different state that isn't good long term. It's very me focused rather than being outward focused. I spent a lot of time preparing those things and time on lunch breaks and weekends, figuring out how I could bring value through these different conversations. I'd assume they were having problems getting non-engineers to understand what we do or with engineer modeling and how to systematically take an approach that would work. They were using different tools than me but I had used them and was able to discuss those from a strategic perspective. That is important because you are thinking about how you can serve the other person with the knowledge you have.
Sometimes it would be off the mark, but at the same time being able to say here is xyz and they say they like it a lot but are more concerned about ABC. We are already talking about the alphabet so let's just focus on a different part of it. There is that.
The other part is because I really wanted to make sure that I felt like I was giving to folks. I did my best to always follow a practice that was new to me, to find something in our conversation that I could do for them as a follow-up. It doesn't have to be business related. One guy I was talking to didn't allow me to buy the beers so I couldn't give him monetary things but he mentioned that he was new to the area and liked hiking. I knew a couple areas that were great hikes. Other folks that have young kids and families went on these hikes and had a good time. I could at least follow-up with that information so it was more than just thanks for your time. "Here is a great hike we talked about, here are the reasons I thought it was great and here are the links talking about the trailheads." He said thanks and it was great and we talked about hiking through email but at the same time it was making sure I was doing my best to feel like I had given something. It pushed me to think, if I can't give something from a career or job focus there are other things you can do even if it's recommending a good YouTube video. It shows you care in a way that is natural, fun.
Folks do it with their friends all the time. So I found great sideshow videos talking about avocados and sent those. It wasn't random stuff. We had actually talked about their kids being interested in science and interested in fill in the blank. So I'd send something about that. I'd talk about interests with folks and send a follow-up on it.
We talk about giving value all the time. I want folks to think about being a friend or person who cares about what was talked about and following-up with something that lets the other person know that the conversation mattered; that the conversation was meaningful and you remembered details and act upon them later.
That makes this an interesting career transition because it wasn't just about finding a job but finding my place in community and showing folks I wasn't just there to find something. I was legitimately interested in our conversation beyond "Mike needs a place to land." It's paid off well because I've kept up with folks I've gotten to know, even if I'm not working with them, and gone to lunch or something fun. That's really neat because I'm getting to know these folks not just as professionals but people interested in hiking, grilling, or video games.
There is so much more to what we do than our labor and work. Those are important parts of our day and week but that's only one dimension of people. To be able to recognize that there are ways you can help people in their career in these conversations but also something more fun and personal like remembering their kids are into a branch of science so here's a fun video, let me know what you think. It's those things that make this less about finding work and a thing to do for money but more about creating a career you like and finding people you can connect with and feeling like you have given at least as much as you have received.
Scott Barlow: Here's what's interesting about what you just said and how you have gone about this. So many of us are interested in having those things: a community of people that we get along with and like, and in some cases a supportive boss we connect with, a good fit with the company, and all these other pieces, and yet we go looking for a job. When we make job changes we go look for a job and we find a job, miraculously, because we go find what we aim ourselves toward. And yet we are surprised when it's just a job and doesn't have these things.
I'd advocate that what you did was whole heartedly different because you went looking for some of the things that were most important to you. You acted as though they were actually important and started with those rather than just searching for a job. Not coincidentally you got way better results than nearly everybody else. I forget the statistics, but it's a low percentage of people that get multiple job offers at the same time, let alone, and I do know the statistics, of people that will end up in a role they enjoy and are satisfied continually. It is very low. Depending on the study it's some place between thirty percent on the high end and twelve percent on the low end.
Michael Bigelow: That's very surprising statistics. It's pretty rough. At the same time I feel that I personally have had very good supervisors and bosses throughout my career and I honestly wouldn't be where I am today without a lot of their guidance and tutelage. I'm excited for the folks I'm joining as well.
You talk about finding a fit in a community and I feel like I'm joining a great community of folks that are doing great work to make an impact that I'm going to be satisfied with. That's been a wonderful thing. The flip side is that you have to go about doing this search with a broader focus. It took more effort and it was scary to be vulnerable, to send a video and say I like this, it's a scientific show that's kind of fun and goofy to a business contact. We did projects that were worth multi-millions of dollars and then to say hey your kids might like this. That was a scary and vulnerable point.
I'm thinking back about all the different conversations I've had in my career and I can only think of two or three that were negative and the rest have been positive. It is scary and it makes you feel a little vulnerable to go outside that standard script we think people want to talk about but there is a lot out there even if someone just says that was cool thanks and nothing else comes from the conversation. It was important for me to feel like I wasn't just talking about the work, job, recommendation or advice. For me it made the process something I could devote more energy to because it gave energy back. Does that make sense?
Scott Barlow: Completely. You have an engineering background, let's take this fuzzy and scary, semi-emotional thing that is putting yourself out there and turn it into something more logical. If we look at the logical side. Say we want to hire other people or work with other people that we like, which means we want to work with other people that we get along with, which means we want to work with other people that we share something in common or some way we are like them. That's where those types of connections and beginnings of relationships become really logical when you trace them all the way through. Of course that's the person that gets hired. Why wouldn't it be? We don't want the robotic person that just looks good on paper and may say all the right things. If you ask hiring managers that don't have a lot of interviewing experience they will say it just feels like something is off about this one. When we sat at the round table to discuss candidates that's what hiring managers would say. But they'd say I really like Johnny and he can do it. Or in this case I feel like Mike could do this, I really like him.
Michael Bigelow: The likeability and connections certainly help. It's who you know and how you are connected and what you know. It's got to be a combination at least in the field I am in. I say that mostly because I'm limited to my experience. I don't know how other fields break down. Those good connections would and did get me opportunities to talk to folks I wouldn't have had a chance to otherwise. At the same time for the position I accepted, they were excited about the whole of my experience and what I can do.
Most folks listening to your podcast and reading your blog know how to do the thing and it's just getting everyone else to understand there is a cool person there. It takes practice but is so rewarding at the end. Keep in mind, we are talking in the afterglow of success, remember I am where I am because a lot of hard work. Early in our conversation, the first time I hired a career coach in 2008 required months of me doing job search stuff eight hours a day, every day. I did take weekends off. That was my fulltime job finding work in 2008.
My point is there is a tendency for folks, I've fallen into it, where you hear someone has done this and think it's great but don't know if you can do it. Everyone has time and the ability to do good and hard work. I know the choices I've made to put in the effort and opportunities were mostly in my control but sometimes they weren't and I just got lucky to talk to someone at the right time or had a conversation go one way rather than another. Those things are important to keep in mind. It's not just this guy did all these cool things and has free time to invest in talking to people.
On the flip side, during this last transition to Seattle, while working with Lisa, that help was just what I needed right then to go from where I knew I could go to where I got. I also gave myself permission to make time in other areas of my day for the time it took to find a new position. Given that I'm normally responsible for dinner when I'm eating alone, I decided it is okay to get take out or eat a frozen meal. I gave myself permission to do that. I didn't say you don't have to exercise. I still did that. I still tracked what I ate but I gave myself permission to not necessarily have to prepare my own food which saved me time to devote to this thing.
I knew I would be most productive from about 7pm - 9pm so I didn't force myself to do anything when I got home from my day job and gave myself permission to watch a half hour of Netflix while I ate dinner. I knew what worked for me and gave myself permission to have a little free time in some areas but I kept making sure that four days a week I was working at least an hour a day on this. I devoted Sunday afternoons to planning my week and getting initial emails prepped, written, or researched. I blocked time on my calendar because this worked for me. Other folks use checklists and habit apps. Use what works for you. Find the system that allows you to track the progress. Know it is going to take effort and there will be times where you feel stupid. Or at least I felt pretty dumb with doing this kind of stuff. Maybe something didn't go the way I wanted, someone cancelled the last minute for whatever reason, I felt bad I didn't give someone enough heads up, or didn't send a reminder, or thought maybe they were blowing me off. Keep the focus on the next step. If they are blowing me off, it's not a big deal I've got four other people to talk to and I'll focus on setting up another conversation with the person I couldn't connect with and I'll let it be. Move on to the other folks. Do that research and talk to their companies.
I felt like I went on a deep dive. Does that make sense there?
Scott Barlow: Yes. Let me pull out a couple powerful things. Let me reach way back to discuss the method we were talking about where you are giving value first and you are looking for the opportunities and have shifted the mindset and having conversations without the intent to give me a job right now. Asking for a job right now is like asking for marriage on the first date, so never do it again? What you did is what we call the test-drive method. Another thing I don't think we said that is valuable is the fact that people have to believe that you can do the job. One of the other values people often miss is that when you are going in to have these conversations at this level and build relationships, that sometimes turn into continuous conversations, you get the ability to demonstrate in front of them, in a different capacity than if you are coming through an application. You get in front of them and interact with them and demonstrate your ability. That is completely different. Other people don't get that opportunity in the traditional way or asking for marriage on the first date.
Michael Bigelow: I agree. Part of my experience that is related to but subtly different is that I feel like in an interview situation you have limited time to show people what you bring to the table. You can be prepared with great stories and anecdotes about how your experience matches with their needs. It's great if you had the chance to talk to someone who could be your future co-worker, supervisor, or boss in a more informal setting and time to show them you have stories in a conversational and show them you are interesting and interested and that you can also figure out their top concerns. If you are fortunate enough to meet others in the organization and see a broader perspective, you are right in saying it's a different game to have those informal conversations before, because as you go through the formal process you have higher insight on the issues they are facing and how your experience can match it and how they want to hear about it.
I realize I'm coming at this with a solid set of projects under my belt and jobs, but if you don't have that level of experience, still tell the stories, even if it sounds silly in your head like something from college, or being a camp counselor. If you can connect even with those minor situations being able to talk about it allows folks to see you are thinking through the questions they ask and are able to paint the picture of yourself and have a better conversation. That can put somebody who is more prepared and engaged ahead of someone with more experience. I feel that your points are well taken. The informal conversations allow you to play the game differently.
Scott Barlow: Absolutely. There is another thing I don't want to get lost that you mentioned. I think we've talked about it on other episodes like the episode on making sure that you have the energy and ability to make the change. I'd also categorize this as making it easier on yourself. We are removing some of the mental energy by allowing yourself to pre-make the decision of what you are eating on Wednesday nights. You don't have to think about it anymore. The other side of it, we talked about in episode 128 with Eric, another past coaching client that was an engineer, who we worked with on how to make this an easier situation. How do you take action on stuff were you are at your best energy levels? How do we leverage your time where it's easier to make it happen? How do we set the chess board up so it's easy to get the checkmate versus bringing the queen from all the way over there to here? I think you did a good job of that. Kudos to you. Consequently it sounds like this transition was much easier than 2008 in terms of time if I'm doing the math right.
Michael Bigelow: Yes this was 2 months versus 4 months in 2008. It was different circumstances. Your point is well taken. At that point in my career I was focused on the fundamentals of how to talk to people in a professional capacity. It worked out well. At the same time I got myself to the point where I knew I did okay but there were things I could do better. I felt I was able to grow into this during the second half of it. That is part of the reason I feel coaching is a valuable thing. If you just look at my own career and successes it's because I've had people able to show me better ways to do things or challenge me to do more. Sometimes you can stretch yourself and sometimes you need a team to stretch you beyond your best. I think that's the biggest value from coaching. You have someone in your corner looking out for your best interests. If they are doing their job as good as Lisa did they are pushing you to be the best version of yourself.
Scott Barlow: I am certainly a huge fan of Lisa. She kept me in the loop for your entire journey. That was fun. With every person we work with I get to live vicariously through them. I get more as we bring on more coaches so it's fun for me. As I mentioned already I think you did a nice job because you were looking. It wasn't your first time around so we got to see advances which was one of the reasons I was interested in having you come on and talk about this.
One other question before we go, if someone is getting started and is on the other end of this, maybe we are back where you were in 2008, or they haven't made several transitions like this, what would you advise them to do using this "test-drive method," a variation on informational interviews, or any other method requiring being able to get out there and building relationships?
Michael Bigelow: That is a good and tough question. The way I would say, and I've taught to folks that have come to me in the past couple weeks that have seen my transition, is to start making it as easy on yourself as you can. Finding a different job, starting a career, or changing a career, are difficult energy intensive things that take a lot of time, emotional energy, and mental bandwidth. It's a big undertaking so start by making it easy. Look at your friends who are doing things or know folks that you could potentially talk to and find the easy ask.
If one of your friends has a friend you've met at a party or know of and they work in video games and you think maybe you can do that because you like programming, or drawing, and you love computer animation, whatever it is, and it's a hard industry to get into, ask your friend and tell them you've been interested in the industry and you know their friend works for the company, say I want to ask them about their experience would you be willing to introduce us. I'll just send them an email with three questions and if they are too busy its fine. That's the way to get started. I say that because your friend wants to help you if they know you are excited. You've given them a way to start the conversation. Either you are excited or you've done it and want to know more about their story. You are focused not on what you want but their story. If you are a person in the industry it is easier to talk about your story with someone that is a beginner. It's easier to talk about your story rather than give specific advice. Think from their perspective, they may be in a position where they have more knowledge, authority, and experience but at the same time getting put on the spot about how to get in is a hard question to answer because there are a lot of complexities. That is a tough thing to nail down well. Make it easy on them to say yes. Just ask about their story and a couple questions about the industry. It's not about what do I do, but what is out there, what problems are being faced. You are taking a lot of the load off that person and your friend. At the end of this you've made it easy for people to say yes because they aren't committing too much. There isn't a lot of expectations regarding interviews or anything. It's just finding out their story, issues, and challenges and from there you can get more information about how your background can fit or attack the problem in a different way. It can give you insights in making the transition but allows more in-depth conversations as things progress.
A great example, someone I know did this and when they had the conversation they asked good questions and approached it the right way asking how they got in the industry and their problems and it led to introductions. Those introductions help you have a lot of information from the first conversations so you can have higher level conversations. I got a little detailed there I apologize.
Scott Barlow: That's perfect. I think it helps people understand how to get started and what it can take. The less we look at it as I go talk to the person and get the job, the more we look at it as a long term game on how do I build relationships and set myself up to add value or meet more people or any number of other things. I think that gets better results over the long term even though it feels counter intuitively like a longer way around.
Michael Bigelow: It's true. It can be feel like the longer way around. One of the things I felt was motivating and love to see in people just starting out or that want to make a career change is when they have come and brought enthusiasm and they've brought questions they have researched or have talked to others. Those conversations are amazing to have as someone who has been in an industry people want to get into. I felt great about those conversations because I've been able to feel cool about knowing stuff and knowing the person is acting on that information. It wasn't just good conversation and that was it, but they are taking the advice seriously and finding solutions.
To sum up, for folks who are starting out, or might not necessarily have a lot of connections, or feel like they can't bring a lot to the table, realize that being a person who will listen and act is value in itself. Be serious about trying to take these difficult questions and wrestle with the technical problems.
I was talking to one group of engineers and they threw out a modern problem that I had no idea for and hadn't seen in my research. I had dropped the ball. I was honest and told them I don't have a good solution but here's what I've read about it and might approach it. We let it go and talked about other things. I went back and found out exactly how to do what they asked. I was able to show them here's how I was right, here's how it failed, and here's how you have to correct it. I sent a full page synopsis of the solution. That changed the tone of the conversation. They knew I was serious and was taking the conversation to the next level.
The point is if you don't know, that is okay. The problem isn't you don't know. If you find out there is a problem that is important but don't follow up, that's the problem. Use that beginner's state to your advantage by being able to be out there and say this is what I found so far and people can give you more insight into what you are missing. Have someone fill in that gap and come back to you. I've been on both sides and one of the cool things of talking about engineering or any position is finding other people that are excited enough to figure out how these things will look differently to find solutions and fill in the knowledge gap.
Even if you are at a beginner level or early on. Enthusiasm and having a self-starter drive counts for a lot. It doesn't have to be something you do the day of. I was extreme in that. If you get back to folks in a week or two with a good solution, people will remember that. If you are in the early stages or feel like a beginner without a lot to contribute be a person willing to ask questions, research and follow up on the answers. You will learn a lot and set yourself apart as someone who takes them serious.
Scott Barlow: I really appreciate that and appreciate you taking the time to come on, share your story, and share some of your successes. Especially the recent ones. And share the things that haven't gone as well and sharing the behind the scenes. All of that is really valuable to HTYCers that are listening now and in this place where they are making the transition, about to make the transition, or thinking about making a change. I appreciate that. We were chatting before and you've committed to detailing some of this out on paper. You are going to do that and post it on your website so people can go over and be able to see it in writing.
Michael Bigelow: I definitely want to make sure that I take this opportunity to give back to your community. I'm thrilled to be able to put that together for my friends and the greater Happen to Your Career community. That website is mikebigelow.net/htyc.
Scott Barlow: Cool. I think people can remember that. We'll have the link. You can find Mike's story and more about him and how he went through this process and certainly more about coaching from Happen to Your Career and our team on the show notes page. Go to happentoyourcareer.com and you can find more about that and at happentoyourcareer.com/coaching. Thank you so much Mike it's been a pleasure and I'm glad we got to do it.
Michael Bigelow: Thank you Scott, this has been wonderful.
Sign up to receive email updates
Enter your name and email address below and I'll send you periodic updates about the podcast.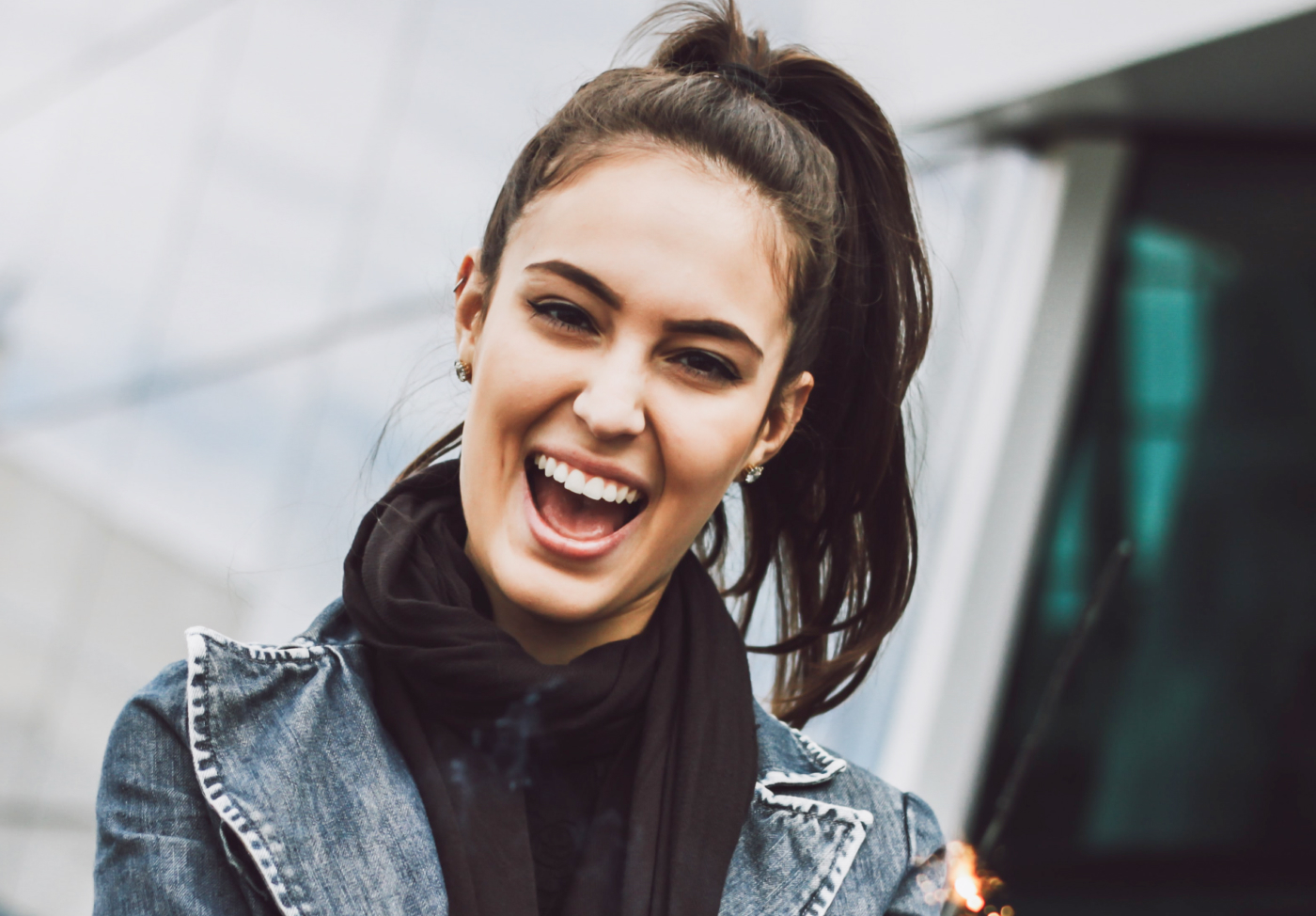 Ready for Career Happiness?
What Career Fits You?
Finally figure out what you should be doing for work
Join our 8-day "Mini-Course" to figure it out. It's free!